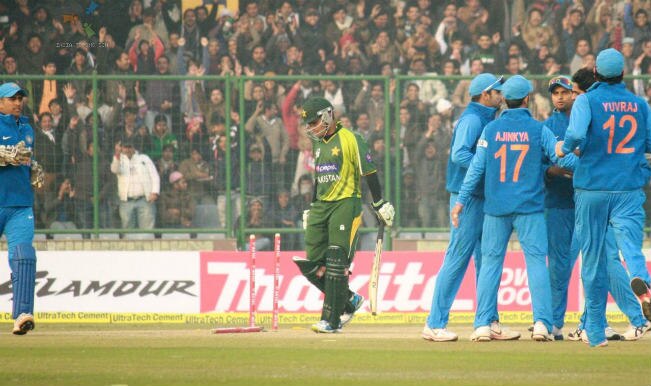 Cricket's biggest ticket match is to be played on March 2. It's not Ashes, it's India Vs Pakistan! The two sides with their bitter sweet rivalry have produced nail biting thrillers every time they've been pitted against each other. Come Sunday, the neighbouring countries will fight it out on the level playing field.
And just why would one watch an India Pakistan encounter instead of being lazy and resting on your sofa? Here are few reasons, that would make you watch the match and not think of anything else:
1- Because it is an India-Pakistan match
The sole reason which will convince you to watch tomorrow's match is that it's an India- Pakistan match. India and Pakistan have faced very rarely in past few years playing only five ODIs and three T20 since the World Cup semi-final in 2011. This raises the curiosity to watch both the nation competing with each other.
2- India are playing without star players
India, for the first time will be playing against Pakistan with their star players missing. This Sunday, there will no Sachin Tendulkar, Yuvraj Singh around. Neither MS Dhoni nor Suresh Raina would be there. It'll be interesting to see how the young teams fares without their main players.
3- Another Kohli century and a true test of captaincy
The stand-in Indian captain is in some form, of late. Watching him score yet another century against Pakistan would be a viewer's delight. Also on line would be Kohli's captaincy; it'll be delighting to see how the young lad marches his troops in absence of senior players in pressure situations, that too against Pakistan.
4- Pakistan Spinners
The spin trio of Saeed Ajmal, Mohammed Hafeez and Shahid Afridi are a treat to watch, when on a roll. On one hand, where Indian players are considered to play the spin better than anyone and on the other hand, the spin trio of Pakistan have won many matches of their own valiantly. The unstable Indian batting line-up will be tested further when they take on Pakistan, tomorrow.
5- Shoddy Opening Partnership
You should also see tomorrow's match for another feasible reason. Indian opening partnerships haven't been up to the mark in recent times. So, if you're frustrated on your boss, wife or children, here will be an ideal opportunity to vent out you anger on; by cussing on another shoddy partnership.
6- It's on a Sunday
Who misses a match if it's on Sunday? Even if India plays Bangladesh or Afghanistan, one simply wouldn't like to miss out on a match on Sunday. And what more would one get than having India play against Pakistan on a Sunday?
7- Do or Die match for India to qualify
The match on Sunday will be a do or die situation for India. India will have to win it anyway to keep their Asia Cup's hope alive. The match promises to be another juicy and intensity-filled encounter like every other India- Pakistan match.
8- The controversies
Controversies have always followed wherever India- Pakistan has played. With many young players on both the sides, there's a plenty of room to have another episode like Gambhir-Afridi, Yuvraj-Gul or Harbhajan- Akhtar.  This Sunday, maybe the list is added with some more names.
The list is endless, but the bottom line is India is playing against Pakistan tomorrow, and no reason will be big enough to not to watch this match.