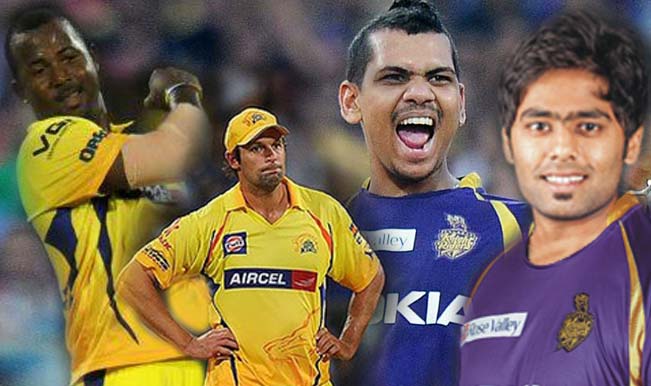 After a phenomenal time in UAE, IPL is back in India and the first match home is Chennai Super Kings vs Kolkata Knight Riders. While CSK has been winning their previous games, KKR has tasted the bitter defeat, be it in the not so exciting match against Kings XI Punjab or the thrilling and nail biting match against Rajasthan Royals. This match plays an important role in shaping the turn of games in India. This would be the 21st match of the season and is going to be played in Ranchi. While both the teams are on the upper side of the table, here are five players who can change the game in this match:
1. Sunil Narine (Kolkata Knight Riders)
This spinner and proud recipient of the purple cap is the strength of KKR's bowling front. He has learnt the art to give less run and take the huge wickets. Sunil Narine almost won the match against Rajasthan Royals in the super over and this wily spinner is still a mystery for the batsmen in the seventh season of IPL.
2. Suryakumar Yadav (Kolkata Knight Riders)
This young batsman has emerged a star in this season of IPL. He has earned KKR a phenomenal 110 in their previous five matches and played a phenomenal innings in their last match with some big shots.
3. Ben Hilfenhaus (Chennai Super Kings)
This fast bowler has taken six wickets in the four matches he has played and is known for withholding runs and putting pressure on the batsman. He has been the spearhead for the former champions.
4. Dwayne Smith (Chennai Super Kings)
He is a tremendous all-rounder who hits big, takes wickets and does not give away runs. Well he is perfect, when he is in form. Having played 5 matches he has made 240 runs and taken 3 wickets, 2 f which were in the team's previous match against Sunrisers Hyderabad. He has walked the team to victory and would be a huge wicket for KKR.
5. Dark Horse: M S Dhoni (Chennai Super Kings)
He has captained the team to victory various times and has been a huge contribution to it. This skipper has saved many runs and also scored 90 runs in this season. He would be playing in his hometown, Ranchi and thereby has high expectations thrust on his shoulders.
IPL 2014 Schedule: All Match Fixtures and Complete Time Table of IPL 7