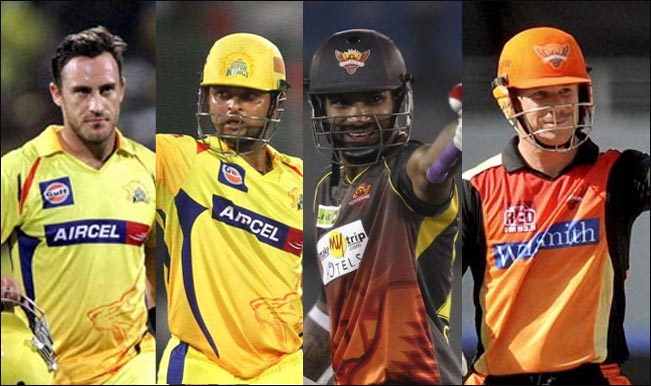 Chennai Super Kings take on Sunrisers Hyderabad at their home ground in Chennai. Back on the home turf. Chennai Super Kings would be seeking revival of the game plans with the former champions losing last two matches comfortably against Kolkata Knight Riders and Sunrisers Hyderabad. On the other hand Sunrisers Hyderabad have done well against Royal Challengers Bangalore to beat them comfortably by seven wickets. We take a look at five players who could be crucial match winners for their side:
1. Suresh Raina (Chennai Super Kings)
Suresh Raina had been one of the key players for the side and has contributed significantly with both batting and bowling. Playing an anchor role for the side, Suresh Raina played well to take CSK to the modest total of 138 runs against RCB. He made a well timed half century.
2. Faf du Plessis (Chennai Super Kings)
As a fielder he lightening fast on field but the South-African import played a supportive role along with Suresh Raina in the match against Kolkata Knight Riders. Spectators would expect more from the aggressive player to play his natural self.
3. Shikhar Dhawan (Sunrisers Hyderabad)
Shikhar Dhawan have been relieved off the duty as skipper and he must now play freely not only to prove his critics wrong but also for keeping the momentum of the side in shape. He had managed to score only 215 runs in his first 10 outings as captain.
4. David Warner (Sunrisers Hyderabad)
David Warner is Sunrisers Hyderabad's in form batsman who has scored briskly throughout the tournament. David Warner score yet another half century (59) to make a 100 run opening partnership playing against RCB along with Shikhar Dhawan who also made his first half century.
5. Dark Horse: Bhuvneshwar Kumar (Sunrisers Hyderabad)
Bhuvneshwar Kumar is all of 24 year-old but the lanky pacer has manged to become one of the fearsome bowlers around in IPL 7. With the best of 4 wickets giving mere 14 runs against Rajasthan Royals must be good enough to send shivers down the spine.