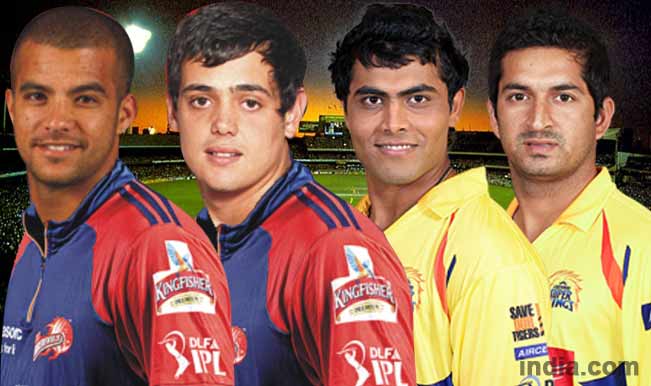 Chennai Super Kings will face Delhi Daredevils once again in this season. Their previous encounter was a masterpiece for CSK and a disaster for Delhi Daredevils who lost by 93 runs. However they have had the time to recover and toughen up. DD have improved their performance and have taken huge runs. They have won two of the six matches played and need a win to stay in competition. They have been in the lower side of the table, while CSK is once again in the top position. They are facing DD in the hope of a sixth consecutive win. Here are five to watch out for this season.
1. Ravindra Jadeja (Chennai Super Kings)
He took four huge wickets against Kolkata Knight Riders in their previous match and has taken 10 wickets in all the six matches. He also scored a phenomenal 17 runs of 10 balls in the previous match. He has scored a total of 66 runs and needs to be watched out for.
2. Mohit Sharma (Chennai Super Kings)
He is the proud owner of the purple cap and has taken 11 wickets in this season so far. This right handed bowler has been shining for IPL 6. He strengthens the bowling front of CSK and took three wickets in their previous match against KKR.
3. Quinton de Kock (Delhi Daredevils)
Kock is a phenomenal fielder who knows how to move around to get some huge catches. He works his magic with the bat and has scored 106 runs in the three matches he has played. In his previous match against Rajasthan Royals, he scored 42 runs and largely contributed to their score. He is a huge attribute to the batting front of DD and should be the first target on CSK's list.
4. J P Duminy ( Delhi Daredevils)
This batting all-rounder knows how to score big. He has scored a total of 212 runs in the six matches this season and has hit big contributing to most of Delhi's huge scores. He is known for his consistency and his ability to bat according to situation.
5. Dark Horse: Brendon McCullum (Chennai Super Kings)
This opening batsman of CSK is the biggest attribute in their batting front. With 249 runs in the 6 matches he has played and has contributed to most of their high scores. In his previous match against KKR, he scored 56 runs of 40 balls.
IPL 2014 Schedule: All Match Fixtures and Complete Time Table of IPL 7