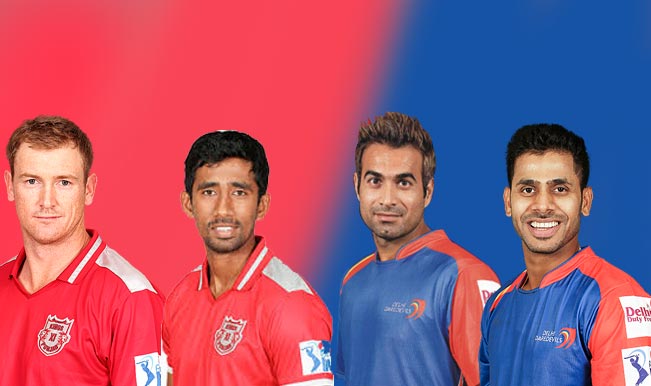 Kings XI Punjab are only winning matches but the way they are trouncing their opponents is remarkable. Next up in the line is Delhi Daredevils who are possibly playing a nightmarish game of cricket. Looking to end last part of the IPL 2014 on a high note Delhi Daredevils will have to play out of their skin against the dominating KXIP. We take a look at the five players who can change the game in the match number 45.
1. Wriddhiman Saha (Kings XI Punjab)
The wicket-keeper batsman has emerged as a key player for KXIP. In the 10 matches the right-handed batsman has made 163 runs with an impressive strike rate. Saha was simply brilliant in his last outing against Sunrisers Hyderabad, where he scored an impressive 54 off 26 balls chasing down a big total.
2. George Bailey (Kings XI Punjab)
George Bailey started off as being a superb captain but now he is certainly making himself known as an able match finisher. With 157 runs in the 10 matches he has been a part of, and knows to hit big. He has scored the winning runs in most of their matches and is known for his composure.
3. Manoj Tiwary (Delhi Daredevils)
This right handed batsman has risen to performance in the recent times for Delhi Daredevils. He has scred 93 matches in the 5 games he has been a part of and 61 runs in their previous match alone with such a good performance, a lot can be expected from him in this last phase of DD's game this season.
4. Imran Tahir (Delhi Daredevils)
He was a new addition to the DD team and has shown his talent in the three matches he has played. In his previous match against Rajasthan took two huge wickets while only giving 25 runs in the 4 overs he played. This South African knows to restrict the runs and play around the bowler.
5. Dark Horse: Sandeep Sharma (Kings XI Punjab)

He might have been expensive in his last match but well everyone can have an off day. The strong bowling front of KXIP has been headed by many talented bowlers and Sandeep Sharma is one of them. A right arm medium pacer, he has taken 14 huge wickets in the 8 matches he has been a part of. He knows how to take the huge wickets and plays a key role in hindering the opposing team from scoring.
IPL 2014 Schedule: All Match Fixtures and Complete Time Table of IPL 7