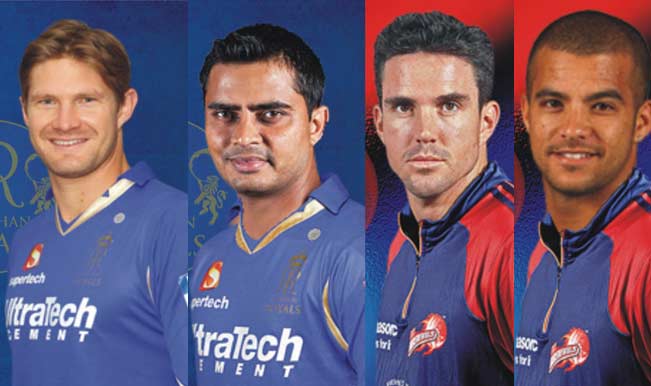 Today's match is a play off between the upper handed Rajasthan Royals and the bottom of the table, Delhi Daredevils. While RR strive to increase their point gaps with the team below, DD need to try their level best to not end the season at the last position. The cool composure of Shane Watson has changed many a games and brought RR to its victory. DD on the other hand have been constantly loosing matches, even after scoring big, mainly due to poor fielding. This match seems to have a clear winner, but when it is IPL, the predictions can all be changed. Here are five players to watch out for in the 41st match of this season.
1. Shane Watson (Rajasthan Royals)
This Australian all-rounder has been the inspiration and positive energy for RR and has walked them down to many victories. He has taken 7 wickets and scored 227 runs in the 10 matches he has played. Being compared to Rahul Dravid for his composure, this smart cricketer needs to be watched out for.
2. Rajat Bhatia (Rajasthan Royals)
This all-rounder's bowling has saved many a games for RR. With 10 wickets in his bag, he knows his was around pitch and takes some huge wickets. His ability to read the game has been quite handy for the whole team.
3. Kevin Pietersen (Delhi Daredevils)
This English player is capable of hitting huge on the field. Tough his performance this season has been in consistent, he knows to save the day and is all geared up.
4. J P Duminy (Delhi Daredevils)
He is the main scorer of DD, with 332 runs in 10 matches. An excellent fielder he possess the ability to bat according to the situation. He knows to hit big and needs to be the target for RR.
5. Dark Horse: Steve Smith (Rajasthan Royals)
His brilliant performance with James Faulkner was responsible for the miraculous victory of the team against RCB. He scored an outstanding 48 of 21 balls and knows to work through pressure.