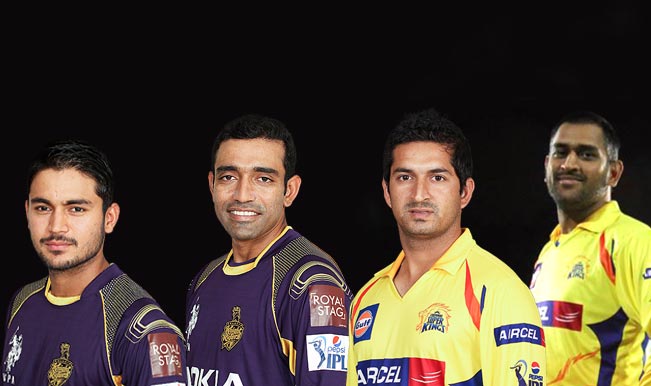 Kolkata Knight Riders take on Chennai Super Kings in the second match of the day in Kolkata. Kolkata Knight Riders have played well to have chances in making to play-offs. With the return of their captain in old form and their opening batsman Robin Uthappa striking well, Kolkata Knight Riders will relish their home conditions against Chennai Super Kings who are coming off a close encounter against Royal Challengers Bangalore. We take a look at the five players that could play major role in match number 47:
1. Manish Pandey (Kolkata Knight Riders)
The young batsman previously part of Royal Challengers Bangalore side has evolved as a player. Manish Pandey formed partnership with in-form batsman Robin Uthappa and made a well-timed 35 runs. His efforts were lauded by Kolkata Knight Riders franchise co-owner Shahrukh Khan.
2. Robin Uthappa (Kolkata Knight Riders)
Robin Uthappa has been Kolkata's knight in shining armour with the way he has batted throughout the IPL 2014 season so far. After being promoted up the order as opening batsman, Uthappa as shone much more. His significant contributions has helped KKR win last four matches on home.
3. Mahendra Singh Dhoni (Chennai Super Kings)
Chennai Super Kings with 16 points in their 11 matches have always looked comfortable. Their dominance has been so much that the entire team has not been bowled out even once for any of the match. Dhoni as an able finisher has showed glimpses of the damage he can do when he is in full-form and so would all his fans expect him to bat like one.
4. Mohit Sharma (Chennai Super Kings)
Chennai Super Kings pacer Mohit Sharma would be itching to get his hands back on the Purple cap from SRH Bhuvneshwar Kumar. Both of them have taken 18 wickets but Kumar has been more economical. Mohit Sharma has been one of the genuine pacers to shine out in IPL 2014.
5. Dark Horse: Brendon McCullum (Chennai Super Kings)
The New Zealand captain playing his last match before he leaves for the country has been one of the best buys of CSK. He proved his worth with successive contributions along with the West Indian Dwayne Smith on top of the batting order for Chennai Super Kings. He could play a pivotal role in what could be his last match of this season of IPL 2014.
IPL 2014 Schedule: All Match Fixtures and Complete Time Table of IPL 7