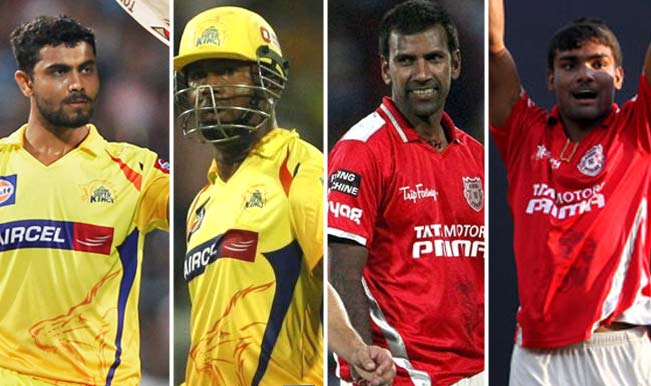 The two best teams this season will be facing off in Match 29 of IPL 2014, as Chennai Super Kings face Kings XI Punjab. While KXIP were the top performers from their very first match, they have been out of shape in India. CSK on the other hand have been winning matches, after their initial defeat. Here are five player to watch out for in this war for the first position.
1. Ravindra Jadeja (Chennai Super Kings)
This left handed spinner has taken big wickets and also hit a few impressive runs. With 11 wickets and 66 runs in his bag, he is one of the most impressive all-rounders of the team. He has also take some brilliant catches in his fielding career.
2. Dwayne Smith (Chennai Super Kings)
This batting all rounder and CSK's opener has scored huge with a phenomenal 335 runs in the seven matches he has played. He has also taken down 3 wickets, making him feared in both the ends of the pitch. he has contributed to more than 50% of CSKs victory by his high runs.
3. Sandeep Sharma (Kings XI Punjab)
A right hand medium pacer from Punjab, he has rose to prominence from IPL 2012. This young bowler has taken 9 wickets in the four matches he has been a part of and took 2 wickets in their previous match alone. He knows his balls and has mastered the art of taking wickets.
4. Lakshmipathy Balaji (Kings XI Punjab)
Lakshmipathy Balaji has been a shining star for KXIP. He has taken 9 wickets this season. He is lethal to the opposing team and strengthens Punjab's bowling and fielding front.
5. Dark Horse: Brendon McCullum (Chennai Super Kings)
With 281 runs in the seven matches he has played, Brendon McCullum an added attribute to CSK's strong batting line. He knows his game and hits the big sixes and fours without any trouble. He is brilliant to watch and brutal to the opposing team and needs to be taken down to maintain a low score.
IPL 2014 Schedule: All Match Fixtures and Complete Time Table of IPL 7