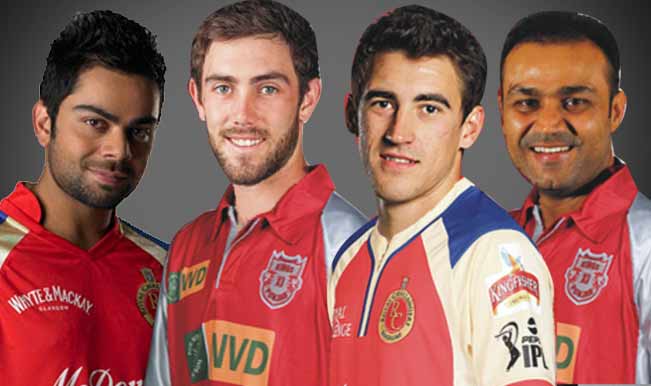 The only undefeated team in this season of IPL, Kings XI Punjab will face the Royal Challengers Bangalore, whose wounds of defeat are still fresh. The match will decide if KXIP remain undefeated or RCB will be able to bring back their mojo and win their last match in Dubai. While KXIP have been on the top of the table, RCB has seen a slip down after the disastrous defeat against Rajasthan Royals. Here are five players to watch out for in this match.
Glenn Maxwell
He holds the orange cap even after his low performance in the last match. He works his magic with the bat once he gets comfortable, and RCB might just have a tough time saving the runs if this star performer begins his game.
Virender Sehwag
He was the sole performer in KXIP's last match, scoring an impressive 37 off the 30 balls and saved thrice before being taken down by Piyush Chawla. He has got in form again and will give a tough time to the opposing team.
Sandeep Sharma
Lakshipathy Balaji is the known strength of KXIP's bowling team, but this right arm medium pacer from Punjab is a discovery of this season. In the last match he took down three important wickets and has taken down four wickets in the two matches he has played this season. He surely adds to the teams fielding and bowling strength.
Mitchell Starc
In their previous match he took down two most important wickets of Ajinkya Rahane and Karun Nair of Rajasthan Royal, there by stalling their defeat by a few overs. He also scored an impressive 18, which was the second highest score in the team at the match. He has taken a total of 7 wickets in the previous four matches and is an attribute to the teams bowling front.
Virat Kohli
He has captained the team t many a victories and tough the team has been going down in the last two matches, his performance has been stable. He scored 21, which was a huge part of the teams 71 runs and has scored a total of 80 runs in the three matches he has played in. he has the potential to score big, if the opportunity appeared.
IPL 2014 Schedule: All Match Fixtures and Complete Time Table of IPL 7