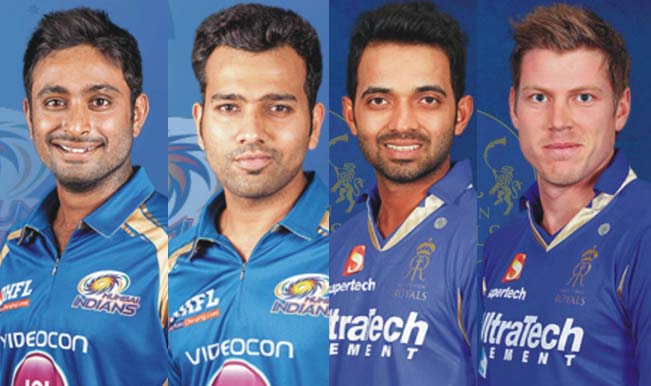 Rajasthan Royals are comfortably placed at third slot on points table while Mumbai Indians at seventh spot are still in the race for next round. As two teams fight it out in first match of the double-header we take a look at five players who can possibly turn the match number 44 head on
1. Ambati Rayudu (Mumbai Indians)
He has been Mumbai Indians best bet with the bat this season and has done contrastingly well than other batters. Rayudu has scored 310 runs with two half-centuries and has notched couple of 30's and 40's. He likes to attack early on and makes sure quick runs are scored. MI camp will look forward to him to lead their batting with a colossal innings.
2. Rohit Sharma (Mumbai Indians)
Just like other star Indians batsmen Rohit Sharma too has been quiet for most part of the IPL. Even though he has three half-centuries to his credit but at times he has been back early in the dug-out with minimum contribution. He is captain of the side therefore an extra pressure to perform and win matches on own.
3. Ajinkya Rahane (Rajasthan Royals)
Rajasthan Royals are spot-on when it comes to picking local talent. Ajinkya Rahane is the best example who has developed his game in the RR fold and results are in front of everybody to see. He has scored 316 runs and is on number nine on most-runs list and second Indian after Robin Uthappa on that list.
4. James Faulkner (Rajasthan Royals)
James Faulkner is more than handy when it comes to both batting and bowling. He has performed in both the departments and won RR many games. He has picked 10 wickets and scored at a strike rate of 191.66 as a finisher. Faulkner has bowled well in death overs and also hits lusty blows down the order.
5. Dark Horse: Sanju Samson (Rajasthan Royals)

Sanju Samson is another of many talented batsmen spotted by Royals and he is relishing his role at an imperative number three position. Sanju was dropped for one game but grabbed the opportunity with both the hands in next game he played. His fearsome stroke making is already being applauded by experts and with age on his side no one hesitates in tipping him the next big thing in Indian batting.
IPL 2014 Schedule: All Match Fixtures and Complete Time Table of IPL 7