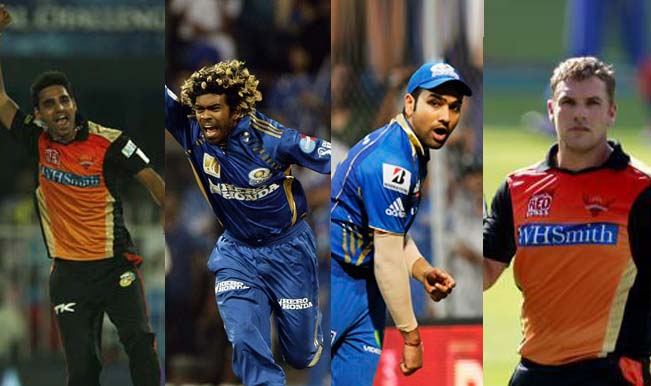 The Mumbai Indians will be facing the Sunrisers Hyderabad in their last game in UAE before they return to India for the second part of the IPL. Both the teams have been in terrible form this season and they would be looking to end and say good bye to the UAE fans on a positive note.
Rohit Sharma (Mumbai Indians)
The Mumbai Indians Captain has had only one good score this season, but the right hander has looked in good touch throughout and the IPL is one of the leagues where his performances have been very consistent. It's also his birthday today; hence he would be looking to celebrate it with a good performance and a victory for the Mumbai Indians.
Lasith Malinga (Mumbai Indians)

The slinger has been only bright star for the Mumbai Indians in this season so far. He is their highest wicket taker with 7 wickets and he nearly turned the game on its head in their game against Delhi. He has a great ability to win the match on his owns and even though he is hitting the mid 30's in terms of age and his pace seems to have lowered a bit, his accuracy with those pin point Yorkers are a treat to watch.
Bhuvaneswar Kumar (Sunrisers Hyderabad)
It doesn't happen very often that a bowler outshines Dale Steyn. Believe it or not the South African pacer has had to play second fiddle to Bhuvaneswar so far in the tournament. Bhuvi has hardly given any runs and has also managed to pick up important wickets at crucial situations. His bowling towards the death has also improved considerably and he would try to maintain his good run of form.
Aaron Finch (Sunrisers Hyderabad)
Aaron Finch might just be the only batsmen in both the teams who have some sort of form going along for him. He has looked in good touch in the last two games and was the star of the only victory that the Sunrisers have managed. He is also the highest run getter for his team. The Sunrisers, who have a very to heavy batting line up will depend on him to provide them with a good start.
Dark Horse- Corey Andersen (Mumbai Indians)
The Kiwi all rounder has been out of touch for quite some time now. He showed shades of form in his last 2 matches but failed to leave up to the expectations of the Mumbai Indians fans and the Franchise. The thing about him is that you never know when he will play that big innings that everyone has been looking for; he is someone who can contribute in all the formats of the game, whether batting, bowling or fielding.
IPL 2014 Schedule: All Match Fixtures and Complete Time Table of IPL 7