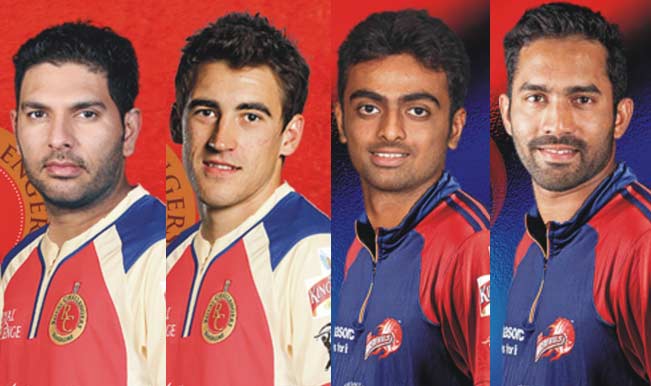 Royal Challengers Bangalore will face Delhi Daredevils once again this season in Bangalore. While RCB has been very inconsistent in their performance as for their opponents are concerned, Delhi Daredevils are consistently performing horrible and is currently at the bottom of the table. Royal Challengers Bangalore have not been able to keep their fielding and bowling in top form is the main reason behind their constant defeat in the recent times. Going into the match, we take a look at the top five players to watch out for in this match.
1. Yuvraj Singh (Royal Challengers Bangalore)
His last performance speaks for itself. One does not simply score 83 runs and take 4 wickets on the same day unless he is Yuvraj Singh. This fighter is back in form and is sure to be an attribute to the team on both the bowling as well as batting front.
2. Mitchel Starc (Royal Challengers Bangalore)
This left handed bowler is fast as well as skillful. He knows how to take down the wickets and has already taken 11 wickets in the 9 matches he has played. This Australian has taken key wickets while withholding runs.
3. Dinesh Karthik (Delhi Daredevils)
This Indian batsman has been one of the most consistent performers and has scored 232 runs in the 9 matches he has been a part of. He is Delhi's batting strength and plays well to targets.
4. Jaidev Unadkat (Delhi Daredevils)
This left handed bowler has taken some huge wickets for the team. His performance this season has been quite good having taken 6 wickets in the 6 matches he has been a part of and he can surely take down the wickets from the strong batting line that RCB pose.
5. Dark Horse: Chris Gayle (Royal Challengers Bangalore)
Coming into the tournament Chris Gayle came off injury and again in the last match against Rajasthan Royals he hurt himself again. We all know about the Gayle storm and in the best of his form can single-handily change the course of the match. One would expect him to be fit for the coming match as knowing his potential and the peak timing of the match, a lot is expected from this West Indian six-hitter.
IPL 2014 Schedule: All Match Fixtures and Complete Time Table of IPL 7