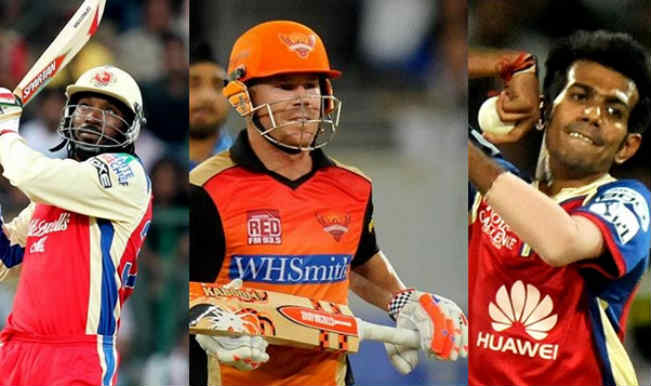 The recently put down Royal Challengers Bangalore will play their first home game in IPL 2014 against Sunrisers Hyderabad. While both the teams have won two of the five matches this season, their journey has been completely different. While RCB won their initial matches and rose towards the upper side of the table, they lost shape and lost brutally in their following matches. SRH on the other hand started low, took their time and got into form and went on to win two matches, including the brilliant win against Mumbai Indians after Pollard's performance put a few obstacles on their victory. Both the teams are on the lower side of the table this match will help one of them move ahead. Here are five players to watch out for in this match.
1. Chris Gayle (Royal Challengers Bangalore)
It's time for some Gayle storm. After beginning with a bang in their last match in UAE by scoring 20 runs of the seven balls he faced. He has been the biggest attribute for RCB in the previous season, and now that he is back in form this season, we can expect some bang on performance.
2. Yuzvendra Chahal (Royal Challengers Bangalore)
This 23 year old leg spinner has been the balling strength for RCB. He has taken seven wickets in the five matches that he has played and is a boon in the dark days. His skills have been tested in U-19 cricket and in this season he is emerging out beautifully having taken some huge wickets.
3. David Warner (Sunrisers Hyderabad)
This left handed batman is the gem of the team with a tremendous score of 163 runs in the five matches he has played, he knows how to hit big. At the same time he knows the importance of running between the wickets.
4. Aaron Finch (Sunrisers Hyderabad)
The right handed batsman of SRH has scored some big runs and contributed in their wins. He has been the reason behind their high scores and has scored 169 runs in the five matches he has played.
5. Dark Horse: Mitchell Starc (Royal Challengers Bangalore)
This Australian bowler strengthens the team with his skills. While he can trouble the batsmen with bace and bounce on helpful wickets, he is also capable of bing effective in conditions that donot suit him. He has taken 7 wickets in this season's five matches and knows how to take the big ones.
IPL 2014 Schedule: All Match Fixtures and Complete Time Table of IPL 7