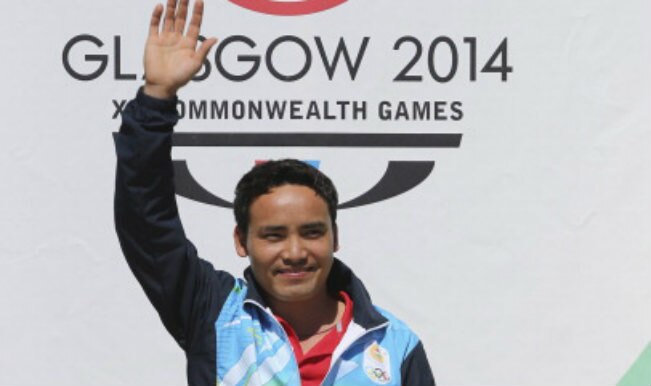 Jitu Rai – The army man brought laurels for the nation when he won a gold medal for India in 50m pistol event. Such was Jitu's dominance that the gap between him and the second placed Kristian Callaghan of England was 15 points. Roger Daniel of Trinidad and Tobago finished third in the event.
Let's now have a look at the 8 must know facts about the ace Indian shooter:
1. Commonwealth Games – The 26 year old Pistol Shooter did the country proud by winning a gold medal in men's shooting in 50m pistol event. He scored 194.1 points to clinch the gold in the final. Jitu Rai also created the games record in qualification round by scoring 562 points.
2. ISSF World Cup Munich – Jitu Rai did the country proud by winning a silver medal in men's shooting 10m air pistol event in this world cup competition on 11th June 2014. He scored 199.4 points in the final.
3. ISSF World Cup Maribor – Following his heroics in Munich, the champion shooter won a silver medal in men's shooting 50m pistol event and added gold in his kitty by winning 10m air pistol event in Maribor.
4. Record – The ace shooter won 3 medals in 9 days across two world cups held in Munich and Maribor. In the process, he became the first Indian to have won two medals at a single world cup competition. On his achievement Jitu said, "I have not changed anything in my equipment or in my shooting technique. I am still training hard as always. I don't know what happened!"
5. Ranking – Following his heroic in the 2014 World Cup, Jitu became the number 1 ranked player in the world in 10m air pistol event. He also achieved his career best ranking of number 4 in 50m pistol event in the world in July 2014.
6. Olympic Gold Quest (OGQ) – Jitu Rai is supported by Olympic Gold Quest program started by Prakash Padukone and Geet Sethi. OGQ is a non-profit sports organization which recognizes and supports Indian athletes to compete at the world level. OGQ must be proud of Jitu Rai's achievement!
7. Army Marksmanship Unit (AMU) – Indian army focusses on finding shooting talents to achieve success in National and International shooting competitions through the AMU. Vijay by virtue of his performance in World Cup and a gold medal in Glasgow has proved that the efforts of the Indian army have certainly reaped rich dividends.
8. Controversy – A major controversy erupted when Rai who is world number 1 in air pistol did not get selected to represent India in his favourite event in 2014 CWG games. He was only selected in the free pistol event. However, Rai kept his calm and as it turned out he won a gold in the event, giving the selectors and the rule makers enough reasons to do some thinking on the selection process.
Get Commonwealth Games 2014 Complete Schedule of Indian Players Here