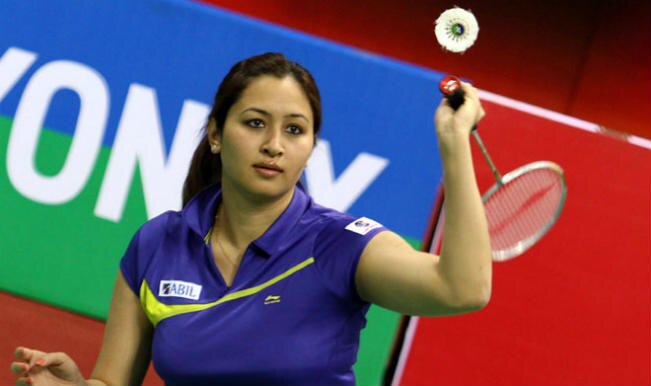 India has been slowly enhancing its medal tally in Glasgow and currently has a total of 26 medals. However, as predicted by India.com on 24th July, India is finding it increasingly difficult to reach the 100 medals mark. India is currently struggling at the 7th position behind New Zealand, who is at sixth position with a total of 27 medals.
India's problems in the medal tally have been compounded by some of the renowned athletes who were expected to win medals in their respective disciplines; however, that was not to be.
Let's now have a look at the 5 athletes who have proved to be a big disappointment at 2014 CWG –
1. Jwala Gutta – Much was expected from this left-handed badminton star; however, she could not repeat her heroics of 2010 Delhi CWG and 2006 Melbourne games in mixed team events. Jwala Gutta and Ashwini Ponnappa lost their crucial women's doubles match to Singapore's Shinta Mulia Sari and Yao Lei. As a result of this, Singapore defeated India 3-2 to win the bronze medal in the badminton mixed team event. It must be recalled that India had won a bronze medal in the 2006 Commonwealth games in mixed team event and bettered their performance to win a Silver medal in the same event four years back.
2. Harmeet Desai – The youngster, who came to Glasgow as the winner of the 2014 Lusofonia Games, did his reputation no good by losing the crucial men's Table Tennis team match to Nigeria's Quadri Aruna 11-7, 11-8, 9-11, 11-5 in the team bronze medal playoff. This put a lot of pressure on veteran Sharath Kamal, who won his first match 3-0 but lost the second 1-3. As a result of this, India lost the bronze medal to Nigeria 1-3. It must be recalled that India had won a bronze medal in this category four years ago in Delhi CWG.
3. Shiva Thapa – This Indian boxer from Guwahati, Assam was expected to win a minimum of bronze medal in 2014 CWG. Supported by Anglian Medal Hunt Company, Shiva is the youngest Indian boxer to have qualified for 2012 London Olympics. The expectations were high from this boxing sensation who is ranked 3rd in the bantamweight category of the AIBA Men's World Ranking; however, he could not justify his talent and lost to Micheal Colnan in the round of 16.
4. Saurav Ghosal – Saurav was expected to win first squash medal for India in CWG. However, that was not to be as he lost to Peter Barker of England 5-11, 11-6, 5-11, 6-11, in the bronze medal playoff. India had high expectations from this 2006 Doha Asian games bronze medalist and Arjuna Award winner; however, it was a case of so near and yet so far.
5. Meena Kumari – There was a plenty of disappointed in store for India in women's shooting in 50-metre rifle prone event as Meena Kumari finished sixth. The pair of Meena Kumari and Tejaswini Sawant had won a bronze medal for the country in Women's 50 metre rifle prone pairs event in Delhi Commonwealth games and the country was hoping now for an individual medal from Meena.
Get Commonwealth Games 2014 Complete Schedule of Indian Players Here