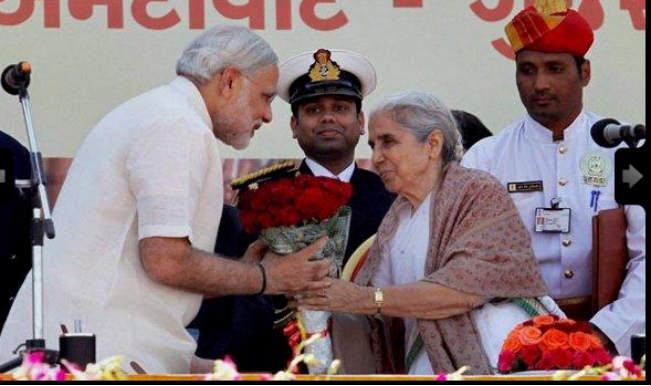 Ever since the news broke out that Mizoram Governor Kamla Beniwal has been sacked, the former Gujarat Governor has been hogging the limelight and how! Beniwal already had longstanding differences with Prime Minister Narendra Modi when he was Gujarat Chief Minister. The sacking comes two months before her tenure ends and exactly a month after she was transfer from Gujarat to Mizoram.
If rumours are to be believed, the prime reason behind this sacking is her alleged involvement in a land scam four years ago in her home state of Rajasthan. The 87-year-old politician, who was revenue minister in Ashok Gehlot-led Congress government and various other political leaders from Rajasthan were accused in the Rs 1,000-crore Jaipur Development Authority land scam. She was allegedly allocated expensive land at throw away prices on the basis of false affidavits and documents.
Beniwal now becomes the second Governor to be sacked ever since the Narendra Modi-led NDA government has assumed office. What is interesting is that the former Delhi Chief Minister and current Kerala Governor Sheila Dixit, who also faces charges of corruption in the Commonwealth Games, has been spared.
Here are 10 things that you probably didn't know about the senior Congress politician:
1. Kamla Beniwal was born in a village Gaurir in Jhunjhunu district, Rajasthan.
2. Born and raised in a Jat family, Kamla Beniwal completed her B.A. in Economics, Political Science and History from Banasthali Vidhyapith, Tonk, Rajasthan and M A in History from Maharaja College, Jaipur.
3. When she was merely 11 years old, she joined the Indian Freedom struggle and participated in "Captain of Girls"- a voluntary team of girls from Banasthali Vidhyapith during the first Session of the "Praja Mandal" held in 1938.
4. During the First Session of Congress, which was held in Jaipur in 1948 after independence, Kamla Beniwal trained the Team of Students of Maharaja College of Jaipur. Not only did they give their best performance but Prominent Leaders of Congress including Pandit Nehru were highly impressed with her work.
5. The 87-year-old politician got the honour as the Best Co-operator of the country for the best contribution in the Co-Operative field. She even participated in the International Co-Operative Congress held in Moscow in 1980.
6. On January 28, 2001, she was bestowed with the degree of "Vachaspati D.Lit" by the Lal Bahadur Shastri Sanskrit Vidhyapith in New Delhi for her contribution in the language of Sanskrit.
7. Kamla Beniwal has also been honoured with the Award of "Woman of the Year 2001" by the American Biographical Institute.
8. Appointed as the Governor of Tripura in 2009, Beniwal became the first lady Governor of any Northeast state.
9. The main reason behind Kamla Beniwal's sacking is connected to her alleged involvement in the Rajasthan land scam four years ago. The senior Congress politician has been accused of acquiring plots of land from the government on claims of working 14 to 16 hours a day as farm labour, even when she was a minister in the state's Congress government.
10. She has also been accused of racking up air miles for free. The Gujarat Raj Bhavan records show that she has used the state aircraft to travel extensively during her tenure in the government. Beniwal flew out of Gujarat 63 times, mostly to her hometown Jaipur, in the last three years between 2011 to 2014. These "official trips" of the Governor have sumed would have costed about 8.5 crore (tentatively).
The government has denied any agenda behind Beniwal's sacking just two months before her tenure comes to an end, it is an open secret that she had a running battle with Narendra Modi when he was Gujarat Chief Minister.