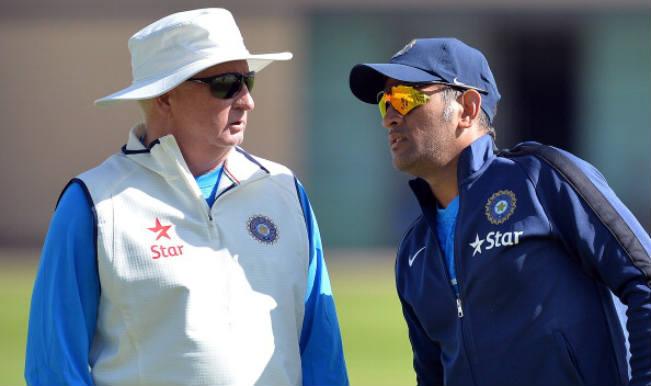 With India losing the fourth test match at Manchester, it is the first time India lost a test against England inside three days since a 132-run defeat at Birmingham's Edgbaston ground way back in 1967. The former players have come down heavily for this defeat on the Captain-Coach duo of Mahendra Singh Dhoni and Duncan Fletcher, while criticizing team India for their abject surrender.
Here is what the former players had to say about India's dismal performance so far in the series –
1. Farokh Engineer – The 76-year-old former Indian wicket keeper has termed the Indian defeat in the fourth test match as embarrassing and shameful. Speaking to BBC Radio Five on Sunday Farokh said, "India shot themselves in the foot right from the moment they decided to bat on a green top surface". He was extremely critical of the Indian coach and questioned his role in this team stating, "Fletcher is very, very highly paid, surely he can read the pitch and advice Dhoni accordingly? There was no backbone shown by India. They played without any care or passion, like having a Saturday afternoon slog". As for the fifth test at The Oval, Engineer added, "There is only a bit of pride to play for because they`ve been humiliated. I dare not see the papers in India, they must be so critical, and rightly so".
2. Nasser Hussain – Nasser was ecstatic by Moeen Ali's bowling in this series. Praising the youngster in his editorial in the Daily Mail, Hussain wrote, "The best thing about the 19 wickets Moeen Ali has picked up in four Tests against India is the speed with which he has improved. What is so exciting about Moeen is that he has taken on board some of the criticisms of the way he was bowling in the first half of the summer, and now looks much more settled at Test level…". Nasser came down heavily on Indian batting led by Dhoni and stated, "As for the way India has played Moeen, they've been abysmal. I was amazed to see some stats the other day about their batsmen's record over the past couple of years against off spin; only Dhoni and Ravichandran Ashwin had decent stats".
3. Sunil Gavaskar – The Indian legend was equally critical of team's performance at Manchester. One of the greatest Indian opener said, "They showed no determination, the dismissals were soft, there were no great deliveries, England were just persistent". He added, "…you could see Indian heads go down and thereafter there has been no thinking of let's fight". He was clearly upset by this meek surrender.
4. Geoffrey Boycott – The former England Captain minced no words while describing India's performance at Manchester as awful, embarrassing, rubbish and brainless. Talking to BBC's Test Match Special, he said, "We couldn't have gone on like we were. We'd have gone crazy watching that. The toss was important and Dhoni made a terrible mistake by batting and losing all those wickets. All in all it was England wearing them down and them not being able to cope with the pressure". Boycott added that the visitors showed no fighting spirit or intent to win.
5. Rahul Dravid – The former Indian Captain, Rahul Dravid was left shell shocked and this is what he had to say to Cricinfo's Match Point after India capitulated at Old Trafford, "It (nine wickets in one session) is almost bizarre. It's hard to understand. India kept losing wickets". He added, "It was always going to be difficult for India once they were 215 runs behind but the fact that they lost nine wickets in a session, when the pitch was not seaming and there was no vicious turn, showed tentative cricket. Everything went well for England".
6. Michael Vaughan – Another former England Skipper described India's display at Old Trafford as pathetic. Vaughan speaking to BBC Radio's test Match Special said, "There was no movement through the air, a hint of spin, but not a great deal and they just lost their fight". The right handed batsman added, "As soon as Gambhir got out it was almost as if they dangled a white flag from the dressing-room and that is unacceptable from an international side". He took a dig at M S Dhoni and Fletcher and said, "If you look back to Lord's, I think India have been fighting too many battles off the pitch. You've got to remember to fight battles on the pitch and I have not seen any of that over that in the last two weeks".