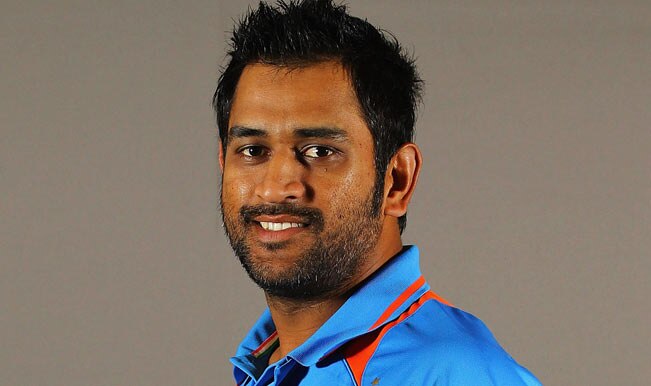 Mahendra Singh Dhoni, one of the finest leaders around in the world of cricket and potent finisher in limited overs format of the game. Dhoni known for his cool and calm nature on field does not mind going out on a limb to see results turn in his favour. Born in small city of Ranchi on July 7 1981, Dhoni has done wonders in his career so far and has almost all the coveted trophies in his cabinet. He is also the first captain after Kapil Dev to lead India to World Cup triumph and has many other credentials to his name. As the most successful Indian captain turns 33 we bring to you some of the records held by him.
1) Dhoni is the only captain to win all three ICC trophies. In 2007 he led India to World T20 win, in 2011 under his reign India lifted World Cup and most recently in 2013 brought home the champions trophy.
2) Batting at number 3 in a game against Sri Lanka in 2005 Dhoni scored unbeaten 183 runs off 145 balls. It remains the highest score registered by a wicketkeeper/batsman in ODIs.
3) Dhoni while scoring unbeaten 113 against Pakistan at Chennai in 2012 became the only captain in the ODIs to score a century while batting at number 7.
4) On 31 January this year, Dhoni became the fourth fastest batsman to complete 8,000 runs in one-day cricket during the fifth and final ODI against New Zealand.
5) Dhoni's maiden century off 93 balls against Pakistan in 2006 is the fastest century by an Indian wicketkeeper. Overall it is third fastest in test cricket by a wicketkeeper/batsman.
6) Dhoni holds the Indian record of most dismissals in both Test and ODI cricket by a wicket keeper. In tests he has 263 dismissals while 298 in ODIs.
7) Dhoni's 224 in a test match innings against Australia in 2013 saw him break many records. He became the first wicket keeper to score double century in a single day's play. He not only became the first Indian wicket keeper to notch up a double ton but also registered highest score by an Indian captain. His knock also saw him register the highest score by a wicketkeeper-captain in Test history.
8) Dhoni is the most successful Indian Test captain with 26 Test victories in 53 matches, surpassing Sourav Ganguly's record of 21 victories from 49 Tests.
Some other achievements in his kitty
ICC One-Day Player of the Year for consecutive two years 2008 and 2009. He also, received ICC Spirit of Cricket Award in the year 2011 and in 2013 won LG People's Choice Award.