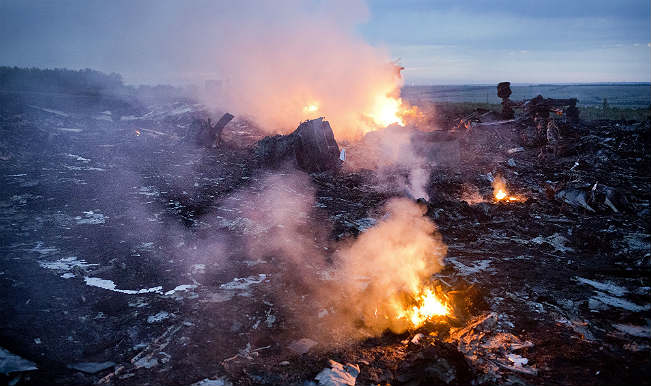 A Malaysia Airlines flightMH 17 with 295 people on-board including 15 crew members crashed in eastern Ukraine, on the border with Russia. The ill-fated Boeing 777 took off from Amsterdam and was destined to Kuala Lumpur. This is not the first time a plane carrying civilians has been shot down. Here we take a look back at some tragic incidents that resulted in the shootdown of the passenger planes
1. Siberian Airlines Flight 1812: 2001
On October 4, 2001 a passenger planewhich was on its way from Tel Aviv to Novosibirsk, Russiawas shot down with a surface-to-air missile from the Crimea peninsula during a military exercise by Ukraine.The plane shot down over Black Sea had 78 people on-board and all of them died. Ukraine at first haddenied the charges.
2. Transair Georgia shootdowns: 1993
Three separate civilian Transair Georgia planes were shot by missiles in Sukhumi, Abkhazia, Georgia.This untoward incident took place over the course of three days on September 21, 22 and 23, 1993, killing 136 people in total.
3. Iran Air Flight 655: 1988
On July, 1988 a commercial flight carrying 290 passengers including 16 crew members was on its destination from Bandar Abbas, Iran to Dubai when it was shot down by U.S. Navy guided missile cruiser USS Vincennes.The USS Vincennes positioned in the Persian Gulf shot down the flight with a surface-to-air missile, killing all on-board. The US government later claimed it mistook the passenger plane as Iranian F-14.
4. Korean Air Lines Flight 007: 1983
This passenger plane was flying from New York City to Seoul via Anchorage. Set on autopilot, the plane wandered away off its way and headed towards Soviet territory. One Soviet air-to-air missile struck the plane, killing all 240 passengers and 29 crew members on the plane. This incident took place on September 1, 1983.
5. Libyan Arab Airlines Flight 114: 1973
On February 21, 1973 Libyan Arab Airlines Flight 114 the commercial plane lost its way when it was airborne from Tripolito Cairo and entered Israeli airspace over the Sinai Peninsula. The flight was intercepted by two Israeli F-4 Phantom fighter jets. It failed to change the path and refused to land before being hit by 20mm cannons fired by Israeli jets.The plane crashed in Sinai's sand dunes and only 5 people survived including co-pilot while 108 others died.