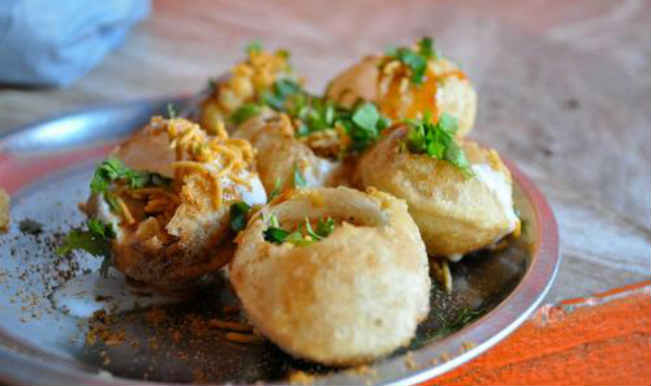 Mumbai is known for its busy schedule and narrow roads. However, little do we know, but Mumbai is well known for its variety of junk food. No matter how good the food is back home, nothing beats the mighty food of the streets! Attractive, affordable and tasty, street food is one of the most preferred by more than half of the population. Here is a list of few such mouth-watering unhealthy dishes:
1) Chaat – Pani puri, Bhel puri, Dahi puri, Sev puri, Ragda pattice, etc. What's wrong? Started drooling already? Chaat food offers a wide range of sweet, sour and spicy dishes which make you go insane. Doesn't if feel good to get an extra Puri at the end, for free?
2) Samosa – Crispy on the outside, tasty from the inside, samosas are very popular amongst the north Indian people in Mumbai. Best eaten with chutney and best tasting when stolen from a friend. Everybody fights for the crispy base, true story.
3) Bhajiya – Most preferred in the monsoon, bhajiya are very popular amongst the youth. Slices of potato or onion dipped in Gram flour preparation and deep fried to perfection, Bhajiya are the reason why monsoon seems pleasant in Mumbai.
4) Dabeli – Mostly preferred by people in Navi Mumbai, Dabeli is a rather sweeter dish. Crispy, crunchy and topped with peanuts and sev, Dabeli is the kind of dish you don't just have once.
5) Vada pav – Okay! Whoever came up with this thing, is GOD! Vada pav is the most common and highly preferred delicacy. Preparation of potato dipped in gram flour batter and deep fried, this is the Elvis Presley of Mumbai street food. Literally, half of the Mumbai survives on vada pav.
6) Dosa – Dosa is a south Indian delicacy, often found in the streets of Mumbai. With sambar and coconut chutney for sider, dosas have different varieties like Masala, Sada, Rava, Mysore Masala, etc.
7) Idli – By far, the healthiest option available on the streets. Idli is a south Indian delicacy made by steaming the fermented rice flour. Often preferred by the health freaks who still wish to enjoy a quick bite.
8) Anda Pav – Anda (egg) pav is nothing but the street version of bread and omelette. However, when you eat it, its no ordinary omelette you find in the restaurants. Often preferred by the meat lovers and also the EGGITERIANS (wannabe meat lovers), anda pav sensation is slowly catching on.
9) Bread Pattice – Mostly preferred in Navi Mumbai, Bread pattice is an upgrade of the mighty vada pav. Whats different? Well, instead of just potato preparation, how about deep frying a potato preparation sandwich dipped in gram flour batter?
10) Medu vada – Better invention than the internet, Medu vada is a south Indian delicacy, ironically, most loved by the north Indians. A doughnut shaped crispy crunchy dish sided by sambar and coconut chutney. Best breakfast for the Mumbaikars.