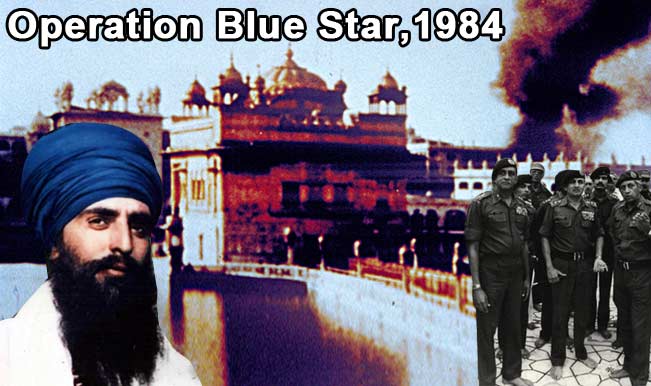 30 years after the infamous Operation Blue Star took place in Punjab; there were reports about violent clashes being taken place between two Sikh groups inside the Golden Temple earlier today. There were sword fights between two Sikh groups over the issues in the commemoration of Operation Blue Star. Few people were critically injured during the uncalled-for incident. We take a look at the incident (Operation Blue Star) that triggered the 1984 anti-Sikh riots and its aftermaths in the following 15-point list:
1. The Indian military Operation Blue Star was ordered by then Prime Minister Indira Gandhi that started on 3rd June and continued till 8th June, 1984.
2. The motive of Operation Blue Star was to eliminate Sant Jarnail Singh Bhindranwale and regain control over the Harmandir Sahib in Amritsar. Bhindranwale had taken refuge there since 1980.
3. Not many people know that the Operation Blue Star was comprised of two operations: Operation Shop, which kept the curfew orders in check and Operation Metal, concerned to the Harmandir Sahib complex.
4. The Indian Army was led by Lt. Gen. Kuldip Singh Brar operating under Gen. Sundarji while the Sikhs were led by Jarnail Singh Bhindranwale and former Maj. Gen. Shabeg Singh.
5. It is little-known that S. K. Sinha, General Officer in Commanding- Indian Army, was sacked just before the Operation Blue Star as he had earlier advised the government against the Operation Blue Star.
6. On 3rd June, the Operation Blue Star began with a 36-hour curfew imposed on Punjab with public communication and travel services being suspended.
7. The Operation Blue Star was brutally carried out by Indian Army troops with tanks, heavy artillery, helicopters, armored vehicles, and chemical weapons.
8. Operation Woodrose was launched to thoroughly scan the Punjab countryside after the Operation Blue Star.
9. The Operation Blue Star casualty figures by Kuldip Singh Brar were as: 83 deaths and 220 injuries in the Indian Army. According to the official estimates by the Indian Government, the total number of civilians killed were 492. Many reports suggested that the casualties were over 5,000.
10. Following the Operation Blue Star, 4000 Sikh soldiers protested pan-India, leading a rebellion against the government.
11. If only the attack on Golden Temple was not enough, it is alleged that CBI seized historical artifacts in the Sikh Reference Library, which was burned later.
12. The Operation Blue Star became the main cause of Indira Gandhi's death. Indira was murdered by her Sikh Bodyguards, Satwant Singh and Beant Singh on 31 October 1984.
13. The Operation Blue Star was criticized for its no holds barred approach. The Operation could have been avoided using blockade tactics, which was later adopted by Rajiv Gandhi in Operation Black Thunder.
14. Operation Blue Star is often compared to 'the great massacre' by the Afghan invader Ahmad Shah Durrani, 1762.
15. "These days it more closely resembles a city of death," said Time magazine described Amritsar in November 1983.