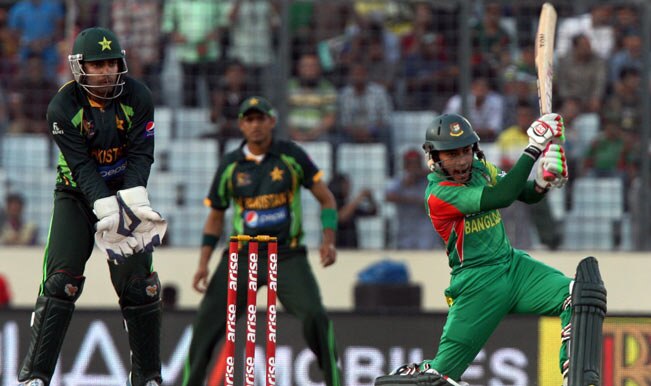 Another day at the Asia cup and another exhilarating cricket match to witness, this Asia cup seems to have been blessed when it comes to providing us with entertainment and thrill. The Pakistan vs. Bangladesh match was outstanding in many ways. It was one of those games which kept more than two teams interested in the result. Ultimately, Pakistan came up on top and in the process eliminated both India and Bangladesh out of the final's contender ship.
Pakistan beat Bangladesh by 3 wickets and for once it was the Pakistani bowling and not its batting that gets to boast about its performance. All the batsmen look set from the moment they stepped out on the crease and even though Ahmed Shehzad did look a bit uncomfortable at the start, he ended up scoring the highest run for his team and thus setting up the perfect platform for Afridi and co to launch a late innings attack that literally blasted the Bangladeshi bowling.
As said earlier the match boasted of a lot of things which makes it awesome. Let's take a look at some of the performances that makes this match amazing.
Anamul Haque: The young Bangladeshi opener played a very matured and patient innings that gave Bangladesh a good base to build their innings on. He shared a partnership of 150 runs with Imrul Kayes and literally starved the Pakistani bowlers of any success.
Mushfiqur Rahim: The Bangladeshi captain once again played a major role in his teams batting effort. He batted quickly and scored 51 of 33 balls in the final overs of the game. He shared a crucial partnership of 77 runs of 34 deliveries with Shakib al Hasan.
Shakib Al Hasan: the left hander sat on the bench for three matches before this game and was making a comeback. He smashed the first ball he faced for a boundary, and ultimately ended up scoring 44 runs of 16 deliveries. He literally smashed the Pakistani bowlers all over the park and that included the otherwise miserly Saeed Ajmal. He also bowled well and was the only bowler who managed to keep the Pakistani batsmen under check, barring the 20 run over against Shahid Afridi.
Shehzad Ahmed: He kind of resembles Virat Kohli from his looks, but that's not it with the similarities, his innings today were filled with strokes that even Virat would be proud of. Now only if he could have finished the game for his country, the similarities would have reached an epitome. He started off slow but then once Fawad Alam joined him after a sudden collapse of wickets, he started to score quickly and scored a memorable hundred for his team and himself.
Mohammad Hafeez: It's a shame that Pakistani players are not allowed in to be auctioned in the IPL, if this guy would have appeared in the IPL, I am pretty sure he would have bagged big bucks. The Pakistani opener is a complete package, he opens the batting, he opens with the bowl and bowls his over with an economy that even Ajmal would be proud of. Today was no different as he gave away only 27 runs in his quota of 10 overs and also scored a crucial half century with the bat and gave Pakistan a good start with the bat as well.
Shahid Afridi: Boom Boom was in his elements again this evening. He came, played about 25 balls and turned the match completely on its head. He smashed no less than 7 sixes and within a period of 33 balls he turned what seemed to be an impossible task into a very easy one by the time he got run out due to cramps.
Fawad Alam: He was making a comeback in the national team after a period of 3 years and what a way it was. He played one of those innings which can be easily forgotten in front of the flamboyant and murderous innings of Afridi. He was quick between the wickets and played with a cool head when Afridi was just destroying the bowling at the other end.
This win for Pakistan means that they will now face the so far undefeated Sri Lankan team in the finals of the Asia cup. They would be keen to continue their form in the finals and win their second consecutive Asia cup title.