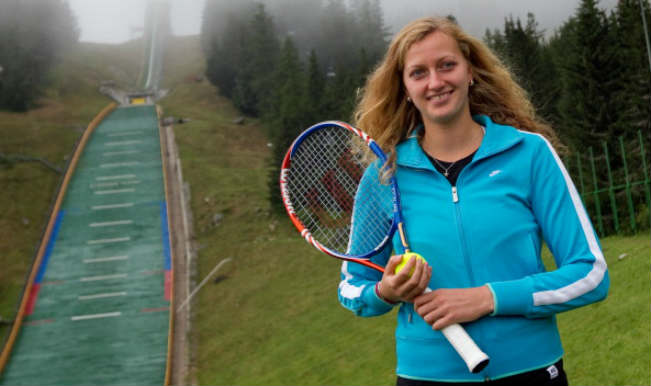 LONDON, July 4: Petra Kvitova will reluctantly return to the spotlight in the Wimbledon final against Eugenie Bouchard on Saturday as the shy Czech tries to emulate her breakthrough triumph on Centre Court.
When Kvitova surprisingly defeated Maria Sharapova to win her first Grand Slam title in the 2011 Wimbledon final, it was expected to herald the start of a dominant period for the youngster, whose aggressive style seemed perfectly suited to the demands of the modern power game.
But Kvitova's no-nonsense on-court exterior hides her true personality, which is far more quiet and reserved, and as a result she has been engaged in a long battle to deal with the harsh glare of the sporting spotlight.
From being a relatively anonymous figure on the women's tour, Kvitova's Wimbledon victory brought her uncomfortable and unwanted scrutiny from the world's media and fans intrigued by her sudden rise to prominence.
It was a transition that has proved extremely difficult for Kvitova and her form suffered as a result. "It was really a point when everything changed in my life after Wimbledon," she said. "A lot of things changed in my life. I'm not any more too much of a private person. Of course the media are interested in everything, so that's not easy as well. I'm still living with the pressure, that's what I really need to handle."
1. Introduced to tennis by her father Jiri, Kvitova grew to idolise Czech legend Martina Navratilova while watching television footage of her heroics at Wimbledon and eventually followed in her footsteps onto the WTA Tour in 2008.
2. She made an immediate impact, reaching the fourth round of her first Grand Slam at the French Open.
3. Her first title arrived in Hobart in 2009 and she broke into the world's top 30 after reaching the Wimbledon semi-finals a year later.
4. Kvitova's star was in the ascendent and in 2011 the rest of the world got to see it as well as she won Wimbledon.
5. It was a fitting stage for Kvitova as she was the first left-handed female player to win the Wimbledon singles title since Navratilova in 1990.
6. She was also the first Grand Slam winner of either gender to be born in the 1990s.
7. But that was the moment everything changed for Kvitova. She crashed out of the US Open first round and struggled in her next 10 Grand Slam appearances. "It's difficult to still be with the pressure every time you step on the court against some opponents," Kvitova said. "You are most of the time favourite of the match and it's really not easy. It needs some time to get used to."
8. But as she matured, Kvitova has gradually been able to find a way to cope with those expectations. Now 24, she has grown slightly more comfortable with the trappings of success, swapping the humble Skoda she drove when she won Wimbledon for a more sleek BMW and moving to the millionaire's playground of Monaco.
9. And back on her favourite grass courts at Wimbledon, her form has finally returned over the last two weeks. Even a semi-final meeting with her compatriot and close friend Lucie Safarova couldn't distract Kvitova from her mission to reach a second Grand Slam final.
10. And if she does lift the Venus Rosewater dish again, Wimbledon will be the perfect location to show she has grown up at last. "It's Wimbledon. It's the best tournament in the world for me. This is what makes tennis special," she said.