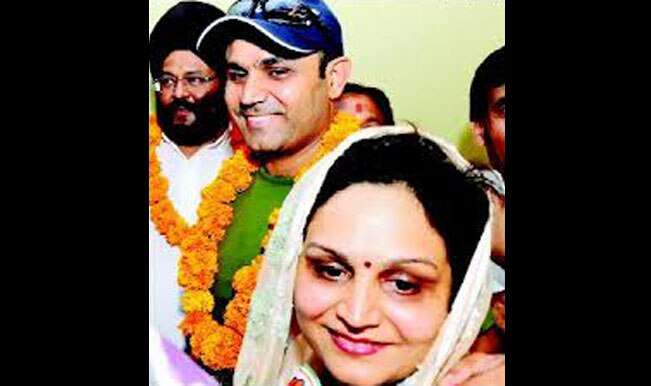 Today is Raksha Bandhan, a festival that celebrates the relation between brother-sister with utmost fervor, enthusiasm and joy. The Indian cricketers irrespective of being on a national duty take time out to celebrate this day with their beloved sisters.After all, the relation of a brother-sister is a bitter sweet one and it never changes irrespective of your social status, achievements or failures in life.
Over the period of time, we have seen several sportspersons on media giving credits to their sisters for what they are in life and what they have achieved. Our cricketers are no different! They have a special place for their sisters in their hearts and like all of us they too soak in Rakhi spirit on this special day.
On this beautiful occasion of Raksha Bandhan, let's have a look at the 5 Indian Cricketers who have special bounding with their sisters –
1. Mahendra Singh Dhoni: The Indian skipper is very close to his sister Jayanti Gupta. Dhoni's father, Paan Singh never wanted Mahi to play cricket, however it was his sister and mother who kept on encouraging him to pursue his interest. He owes his success to them. Jayanti who is a school teacher is extremely supportive of her brother and this is what she had to say about Dhoni,"My brother will never overdo anything. He is humble, has a workman's ethic and a clear sense of responsibility. When the Jharkhand government offered him a PhD, he refused because he hadn't completed his graduation".
2. Virender Sehwag: Virender Sehwag has always stood by his sister Anju Meherwal in every path of her life.He took time out of his Indian Premiere League stint in 2012 and campaigned for his sister in MCD elections in Delhi who eventually went on to win the municipal elections. Anju is a Hindi teacher and is married to Ravinder Singh.
3. Virat Kohli: Virat celebrates Raksha Bandhan with lots of fun-fare when he is around in India. His Elder Sister Bhawna is extremely close to his heart and has been his support since the death of his father in 2006. She is married to Sanjay Dhingra.
4. Gautam Gambhir: Gautam and his sister Ekta are best friends and always take time out to meet each other. The Indian cricketer describes his sister as sensible, understanding and supportive. He turns to her in his moments of disappointments and discusses cricket with her. He even withdrew from the third test match against Sri Lanka in Mumbai to attend his sister's wedding. Ekta on her part takes great pride in being Gambhir's sister.
5. Bhuvneshwar Kumar: This 24 year old, medium fast bowler from Uttar Pradesh attributes his success in life to his elder sister, Rekha Adhana. It was Rekha who encouraged Bhuvneshwar to play cricket at the age of 10 and took him to his first cricket coaching centre when he was 13 years old. This is not all; she herself would get him his cricketing equipment. Rekha who is married and settled in Delhi has loving memories of her childhood and this is what she had to say on Bhuvi, "I understood the fact that cricket was his life so I requested the teachers not to put too much pressure on him to study. I used to discuss his progress with his coaches. Our father had a transferable job, so I am in charge of ensuring that Bhuvneshwar got everything he wanted to progress in his cricket career".