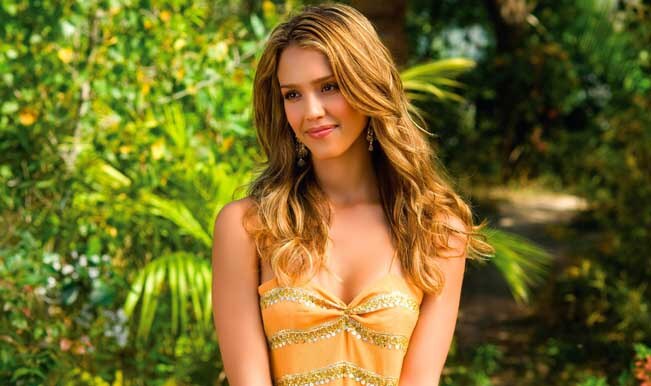 American film actor and model, Jessica Marie Alba, best known for her movies like Fantastic Four, Sin City and Good Luck Chuck, celebrates her 33rd birthday today. Born on April 28, 1981 to a Danish mother and a Mexican father, she expressed interest in acting since the age of 5. She had appeared on the "Hot 100″ section of Maxim and was voted number one on AskMen.com's list of "99 Most Desirable Women" in 2006. She was even voted as the "Sexiest Woman in the World" by FHM in 2007. But how much do you really know about this sizzling actress? Take a look at it yourself:-
Jessica Alba's childhood was marked with numerous physical maladies, including collapsed lungs, pneumonia, ruptured appendix, and tonsillar cyst. This would lead to her isolation from other children at school.
Jessica Alba was raised as a catholic throughout her teenage years. But soon, she stopped going to the church because she felt that she was being judged for her appearance.  "Older men would hit on me, and my youth pastor said it was because I was wearing provocative clothing, when I wasn't. It just made me feel like if I was in any way desirable to the opposite sex that it was my fault, and it made me ashamed of my body and being a woman," she had said.
She is an avid swimmer and PADI-certified scuba diver.
Alba started dating her co – star from James Cameron's Dark Angel at the age of 19. The relationship had lasted for 4 years after which Michael Weatherly had proposed to her. Due to the 12 – year age difference between the two, however, Jessica's parents did not approve of Michael and they eventually broke up.
Jessica's nicknames are Sky Angel and Albz.
She has three tattoos: The back of her neck sports a ladybug and a daisy, the lower back is graced with a bow and her wrist has a Padma on it.
She first started dieting at the age of 12. She blamed her family's eating habits for this.
Jessica is 5 feet 6.5 inches (1.69 metres) tall.
In 2013, Alba released her first book called The Honest Life which is based on her experiences creating a natural, non-toxic life for her family.
She is a big fan of bikes, especially Harley Davidsons.