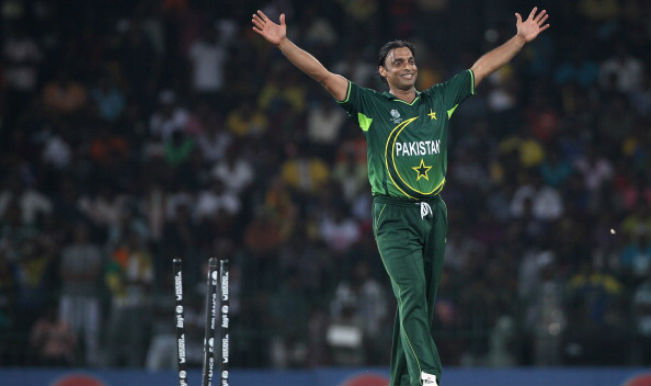 If controversy was his middle name, speed fittingly was his first. Shoaib Akhtar, born on August 13 in 1975 was one of the most destructive fast bowlers during his playing days. Known for his erratic and rebel nature Shoaib has troubled even best of the batsmen with his yorkers and bouncers. Apart from audacious flair on cricket field his career was never short of injuries and controversies, as the former speedster turns 39, we summarise his 13-year career.
1. Debut: Shoaib Akhtar who represented Pakistan in 46 Tests and 163 ODIs made his Test debut against West Indies in 1997 on his home ground at Rawalpindi. In March following year he was handed ODI debut against Zimbabwe at Harare.
2. Announced his arrival: World took notice of this breakneck bowler when in Asian Test Championship match against arch rivals India at Calcutta now Kolkata he dismissed Sachin Tendulkar on the first ball he bowled to him with swinging yorker and left the crowd at Eden Garden stunned.
3. Injuries and Controversies: Shoaib Akhtar's career was afflicted with several injuries and controversies. Rawalpindi had to undergo Knee and ankle surgeries throughout his career as his long run-up was taking toll on his body. The fast bowler also faced fines and bans for his rebellious nature both on and off field. He was banned for testing positive for performance-enhancing substance and also misbehaving with team mates, coaches and rival players.
4. Fastest ball:  Known for speed throughout his career Shoaib Akhtar set an official world record by achieving the fastest delivery, of 161.3 km/h (100.2 mph) against England in 2003 World Cup.
5. Retirement: During the 2011 World Cup Shoaib Akhtar announced his retirement from all forms of cricket and last played for Pakistan against New Zealand in that World Cup. Akhtar ended his career with 178 Test wickets and 247 ODI wickets.