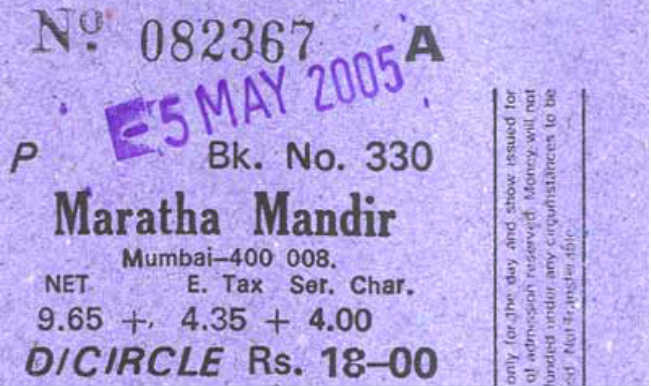 Amidst the luxury of watching a movie in a multiplex and snacks and drinks being served at your very seat, we have, perhaps, forgotten the old – world charm that the single screen cinemas still contain. Although dwindled, crinkly and weary – here are some of the main reasons why one should look forward to watching a movie at a single screen cinema:
Aura
Be it the Regal cinema at Colaba or New Excelsior at Fort, the aura of a single screen cinema in all these different theatres are alike. It is almost enthralling to watch enormous curtains as they pull up and give the audience a sense of pleasing embrace. The Art decor inside these old theatres, though Mumbai's least noticed architectural styles, still remain the same, making you grow in a state of awe, as you travel back in time. The seats may not be as comfortable as what the multiplexes provide, but these old – timers sure do promise you an unforgettable experience.
Cheap
One must hear many complaints about the rising price of next to about everything today. The cost of a single trip to a movie theatre which includes travel, tickets and snacks that you may eat inside, have become so expensive that many people prefer staying home rather than attending movies at theatres. Which is why, you must choose a single screen cinema whenever you're low on money. The tickets are extremely cheap and so is the food that is offered inside.
Experience
The problem with some of the multiplexes is that the screens tend to be smaller which is, basically, against the whole idea of watching a movie in the theatre. If this was to be the case, then why would most of the people bother to pay for the movie tickets at a theatre, why wouldn't they just enjoy movies on their home television. One of the reasons why many of us like to watch movies at theatres is because of the big screen experience that it offers us. And that is the beauty single screen cinemas will never fail to guarantee the audience.
Despite of all the above given perks, some or the other old theatre is reported to be shut down every now and then in the city of Bombay due to lack of business. It is sad really, to watch us become increasingly distant from what was once upon a time, the greatest part of a movie – watching experience. I'm going to enjoy the most out of whatever remains of these old theatres, what about you?