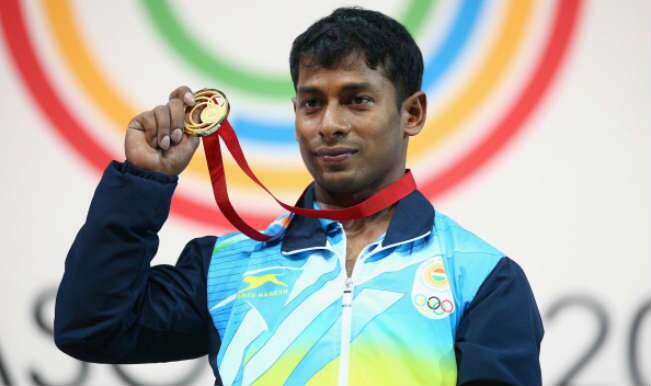 Weightlifter Sukhen Dey handed India the second gold at the Commonwealth Games on the opening day. Sukhen Dey who was impressive in clean and jerk claimed gold in the 58 kg men's category by lifting a total of 248kg (109 kg in snatch, 139 in clean and jerk). In case you are wondering who this new star of Indian weightlifting is, here we are with four things to know about this gold winner.
1) 25-year-old Sukhen Dey who hails from Andul town of Howrah district in West Bengal was born on March 28, 1989.
2) In the last edition of CWG at New Delhi Sukhen Dey had also won silver medal besides bagging gold in the 2013 Commonwealth Championships in November last year.
3) Past doesn't hold good for Sukhen Dey as he was suspended in 2011 for failing a dope test during the Continental Grand Prix in Malaysia.
4) Sukhen Dey who is of Havaldar rank in armed forces has also trained at the Pune's Army Sports Institute (ASI) established in 2001.
Sukhen Dey's effort at consecutive Commonwealth Games is highly plausible.