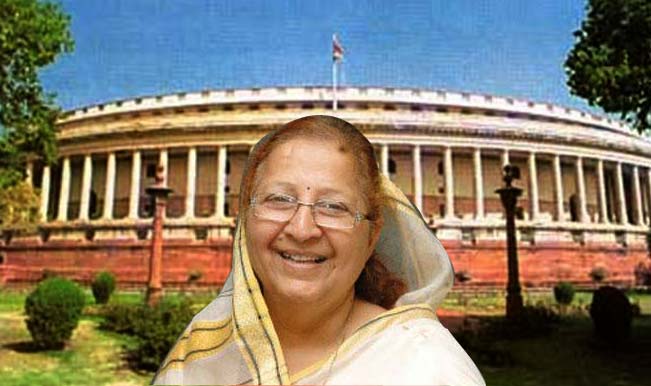 Advani – Sumitra Mahajan – Advani- Sumitra Mahajan; but in the end Sumitra Mahajan it is. After weeks of speculation, the Speaker of the 16th Lok Sabha has formally been selected. Venkaiah Naidu, Parliamentary Affairs Minister, on Thursday announced Sumitra Mahajan's name putting all end on speculation on L.K. Advani's nomination. The election of the Speaker will take place on Friday. Sumitra Mahajan, if chosen to the prestigious post, will be the second woman to be the speaker after former Speaker, Meira Kumar.
We look a list of little known things about the senior BJP leader Sumitra Mahajan, who chairs the Speaker's post of the Lower House.
1.   Sumitra Mahajan was born on 12th April 1943 to Usha and Purushotam Sathe in Chiplun, Maharashtra.
2.  Sumitra Mahajan is a graduate of law (LLB) and has studied Master of Arts (MA) at Indore University.
3.  Sumitra Mahajan began her political career as a Corporator in Munincipal Corporation, Indore in 1982. She later became Deputy Mayor, Indore in 1984.
4.  People in her constituency (Indore) fondly address Sumitra Mahajan as Tai (Sister).
5.  Sumitra Mahajan has never lost a Lok Sabha election since she was elected from Indore in 1989. In the 2014 Lok Sabha Elections she won by a margin of 4.67 lakh votes; highest in Madhya Pradesh.
6.  Sumitra Mahajan is the longest-serving woman member in Parliament, winning the Lok Sabha elections for the record eighth time (1989, 1991, 1996, 1998, 1999, 2004, 2009, and 2014).
7.  Sumitra Mahajan is known for her simplistic and honest approach in her political endeavours.  Sumitra boasts a clean track record and has successfully managed to keep herself away from vested interest groups.
8. Sumitra Mahajan's hobbies include reading, music, drama, and cinema. Not many know that Sumitra is a singing enthusiast too.
9. Sumitra Mahajan has been a cabinet minister in the past. From 2002 to 2004, Sumitra held various portfolios such as Human Resources, Communications and Petroleum.
We wish that the 71-year-old senior leader doesn't turn out to be another "Baith Jaaiye" speaker! *wink*