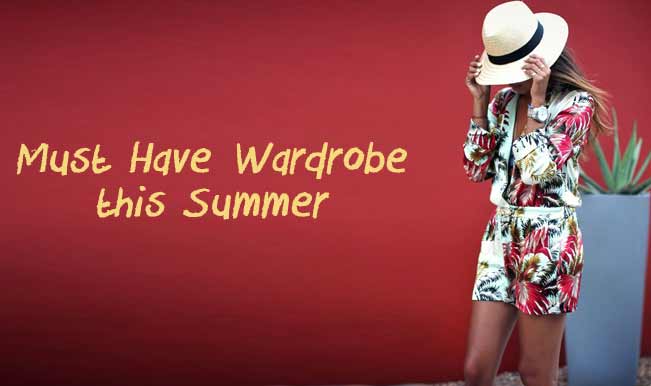 As the prickling heat increases and summer finally arrives, it is time to bid adieu to the woolen knit tops and jeggings and welcome the cotton wear and summer dresses. While comfort comes first in designing your wardrobe, it is also important to be in trend. Here are the five must haves in your wardrobe, this summer.
Jumpsuits
It is trendy, comfortable and beats the heat. Jumpsuits are the must haves this summer. With a varying range available from half to full length jumpsuits, the make for a perfect summer day and can even work for a Saturday night if accessorized well.
Scarves
They protect you pretty well from the sun while adding an extra edge to your clothing. Scarves add layer to your clothing with little effort. While choosing scarves, one of the most important points to keep in mind it picking vibrant colours like green, pink or blue over the sober greys and blacks.
Floral shorts or pants
Spring is the time of blossom and it shows through this increasing trend. Floral shorts, three fourths or palazzos add the extra edge of summer and is perfect for a summer picnic or even a brunch party.
Sheer skirts
Sheer wear has been in trend for quite some time now, however this summer it is time for sheer skirts. This new trend that was showcased in various spring fashion shows is a must have for the party animals. It is simple and comfortable and at the same time makes an incredible fashion statement.
Crop Tops
Priyanka Chopra recently sported this trend to an event and turned many heads. While most people would argue that crop tops can only be carried by the skinny ones or those who are comfortable in a top showing their navel. This is a common misconception and anybody can sport this new trend. Although they are not the easiest clothing to carry off, you can layer them over a blouse or pair them over high waisted pants.