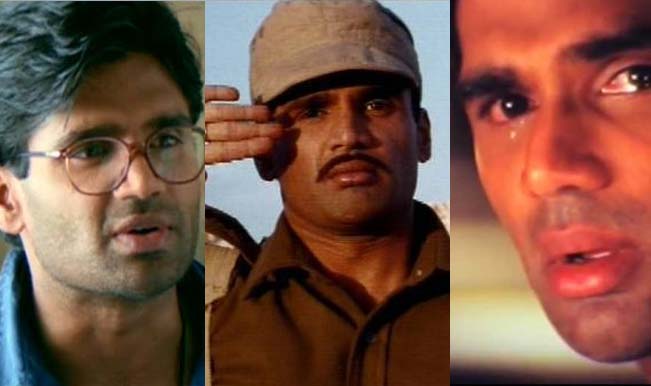 Born on August 11, 1961, Sunil Shetty aka Anna is celebrating his 54th birthday. There was a time in Bollywood when Sunil Shetty used to thrash every baddie in the town and was a sensation for that among the Hindi-action flick lovers. He certainly was a crowd-puller in 90s and people used to throng video cassette parlours to purchase his latest release. With trend shifting in Bollywood there was a considerable drop in his attractiveness and we saw him doing limited roles, but he still is around and kicking.  On this very occasion we bring to you five of his best movies.
1. Border: Released in 1997 Sunil Shetty in this multi-starrer film based on Indo-pak war of 1971 played the role of the border post's BSF commandant Bhairav Singh. The movie was blockbuster hit and Sunil Shetty was appreciated for his performance. The actor was nominated for Filmfare Best Supporting Actor Award.
2. Hu Tu Tu: This 1999 release was one of those movies were Sunil Shetty was seen shifting gears from fully action packed films and doing some unconventional roles. Hu Tu Tu was directed by Gulzar and Sunil shared space with Nana Patekar and Tabu.
3. Dhadkan: Sunil Shetty won the Filmfare Best Villain award for Dhadkan which was released in 2000. Alongside Sunil Shetty Akshay Kumar and Shilpa Shetty were in the lead roles. Sunil played the character of Dev who was in love with Anjali played by Shilpa Shetty, but could not marry her and later in pursuit of winning her back turns negative.
4. Hera pheri: A rib-tickling comedy Hera Pheri was released in 2000 and was a remake of Malayalam film Ramji Rao Speaking. Sunil was part of the famous trio in the movie, other two were Akshay Kumar and Paresh Rawal. Hera Pheri was an out and out entertainer with Sunil Shetty doing justice in a comic role.
5. Red Alert: The war within: This movie was based on a real life event and was released in 2010. Sunil Shetty played the role of Narasimha, who is forced to work for the Naxalites. Sunil Shetty won accolades for his strong performance in this political drama.
Sunil Shetty was truly a Macho Man of Bollywood in 90s and gave numerous hits with action centric films like Anth, Dilwale, Mohra, Rakshak and Krishna to name a few.