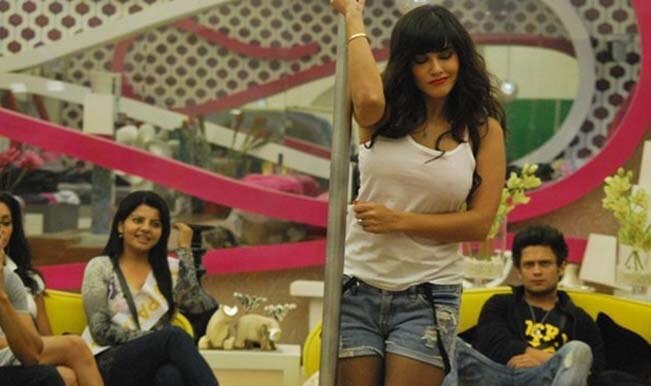 The Indo- Canadian actress and pornstar, Sunny Leone has been causing quite a stir in India ever since she was introduced to be a household name back in 2011 through Bigg Boss. It was only after she participated in Bigg Boss by entering the house on the 49th day that she gained enormous fame especially in India. On the celebratory eve of her 34th birthday, it is only fair that we travel back in time and cherish a few memorable moments of the Babydoll in the Bigg Boss house. Take a look at the top 5 Bigg Boss moments of Sunny Leone:-
Sunny Leone entered the Bigg Boss house on the 49th day. While most of the housemates were in the bedroom, chatting, a cheerful song started playing. They went rushing out only to find dancers carrying a beautifully decorated "doli" with Sunny sitting inside of it. She looked amazing dressed in Indian clothes. All the housemates seemed very happy to receive her.
4. Her sensuous pole dance
Bigg Boss was in its 53rd episode when Sunny Leone was given a task to perform a dance piece involving a pole. Needless to say, she carried it out very well. She danced to the song, "Yeh mera deewana dil" shocking all the housemates with her terrific moves.
3. When she revealed her identity
Not many including the housemates were aware about Sunny's professional life when she entered Bigg Boss. Upon being asked what she does, professionally, she would simply brush away the conversation by saying that she was an actress and a model. She wanted to win the hearts of her co- contestants first and then reveal her true identity to them.
2. Sunny Leone's dance with co – contestant, Siddharth
She rocked the performance alongside Sid wearing a red dress while performing to the song, "I love you." They looked adorable together!
1.Mahesh Bhatt's offer
Mahesh Bhatt entered the Bigg Boss house especially to meet Sunny Leone. He first greeted all the housemates and later was shown speaking to Sunny in private. This is where Mahesh Bhatt first told Sunny about her possible lead role in their next project, "Jism 2."   She graciously accepted the offer and rest is all history.
We wish Sunny a very happy birthday! Hope she keeps ruling our hearts for years to come.