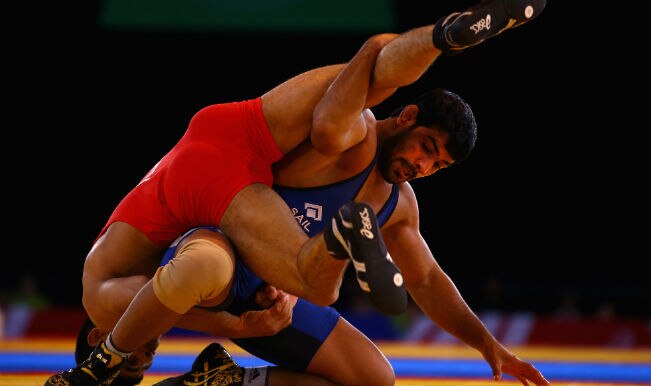 Sushil Kumar, Indian World Champion wrestler has made the country proud again bu winning gold medal in the 74 kg men's wrestling event in Commonwealth Games 2014. The two-time Olympics medalist just took 107 seconds to get the medal in the men's freestyle category beating Pakistan's Qamar Abbas.
Here is a list of five medals that the wrestler has won over the years as a wrestler that has made the country proud-
Junior category awards
He won the gold medal at the World Cadet Games in 1998 in his weight category. In 2000, he again won gold in the Asian Junior Wrestling Championship. After that he moved out of the junior category and won bronze at the Asian Wrestling Championship in 2003.
2008 Beijing Olympics
Sushil Kumar won bronze after defeating Spiridon in August Beijing Olympics 2008. He lost his hopes when he lost to Andriy Stadnik from Ukraine in the first round of 66 kg wrestling event. However, he defeated American Doug Schwab and Albert Batyrov in the first and second repechage rounds respectively which paved him way for the finals.
2010 World Wrestling Championship, Moscow
Sushil Kumar was the first Indian to win a gold medal at FILA 2010 World Wrestling Championship in Moscow. He defeated the expected winner, Alan Gogaec of Russia in 66 kg freestyle wrestling category. He had won the semi-finals against European champion, Jabrail Hasanov thus making it to the finals.
2010 Commonwealth Games, Delhi
Sushil Kumar had previously won gold in the 2010 Commonwealth Games which was held in Delhi. He had beat Heinrich Barnes of South Africa, 7-0 in 66 kg freestyle wrestling category in the finals. In the semi-finals he beat Famara Jarjou of Gambia 3-0 in 9 seconds, making records.
2012 London Olympics
Sushil Kumar led the Indian contingent at the 2012 London Olympics and was the flag bearer of the opening ceremony. He won silver medal in the games. After entering the semi-finals, a  controversy lit up after beating Akzhurek Tanatarov of Kazakhastan in the semi-finals. Tanattarov had complained that Sushil Kumar had bitten his ear after which he had to settle for silver.
This wrestler has also received the country's highest honour for sportsperson, Rajiv Gandhi Khel Ratna for his reamarkable sportsmanship. He was also bestowed with the Arjuna Award in 2005 recognizing outstanding achievement in national sports.