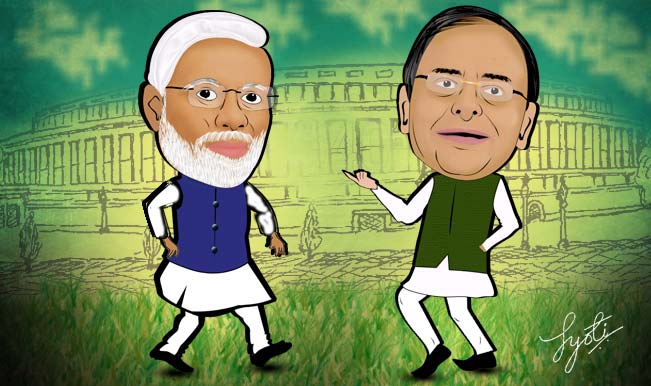 Narendra Modi took an initiative to improvise the budget as his key motive. Modi since the time he sat on the throne of Prime Minister till today's date was continuously emphasizing for the development of infrastructure, employment, skill, women's safety for the betterment of the country.
Here are some of the initiatives which was pushed to a great extent and prove ki "Acche Din Aa Gaye".
1. Housing to all till 2022: Government has announced in the Union Budget of 2014 that everyone would get Houses by 2022. Arun Jaitley said, "We will extend additional tax incentive on home loans to encourage people, especially the young, to own houses." Not only has this but Government had also increased housing interest rate limit to Rs 2 lakh from 1.5 lakh on home loans. And also setup a Mission on Low Cost Affordable Housing in National Housing Bank.
2. Need of Sanitation: Swatchh Bharat Abhiyaan is the main motive of the Government i.e. need for sanitations in all houses. The Government is providing with the resources and requested everyone to co-operate equally.
3. Smart cities: Narendra Modi's wide vision has given a broad direction to all smart cities and Arun Jaitley aims at spending Rs 7060 crore for 100 smarter cities. Smart cities will get satellite towns and by modernizing the existing small cities.
4. Skill Programme for India: Government is planning to work on skill development of all youths, and also announced to launch national Multi-skill programme which is known as Skill India. Program will basically focus on giving employment skills, training to youth.
5. Clean Ganga: Arun Jaitley has allotted Rs 100 crore for funding river Ganga and government also proposes to allocate Rs 2037 crore to clean and purify Ganga river. Not only this but all other heritage places are going to get clean up as these places are sacred.
6. Solar and renewable energy: Several initiatives have been announced to gear up these sectors. Jaitley also proposed to take up Ultra Mega Solar Power Projects in several places like Rajasthan, Gujarat and Tamil Nadu. Rs 500 crore is being allocated for this sector. There are several schemes which are being added up to gear and transform this sector.
 
7. Tourism: Government announced to create 5 tourist circuits around various themes and a total amount of Rs 500 crore has been kept aside for this sector. India is known for its unique culture, historic places and beautiful heritages which provides a huge amount for development of tourism and job opportunities. These benefits are being added up so that tourist from all over the world visits India.
8. North-east development: Development of North-East part of the country and focusing especially on constructing National Highways, proper roads, organic farming, organic food. A sum of total Rs 53,706 crore has been allotted for developing this sector.
9. Rural areas growth and development: Focus and dedication is required in rural sector growth and development to build proper infrastructure, development of economic activities and other skills. Proper scheme funds are been used and demonstrated. Government is planning to improvise the rural development model and make it more urbanize in giving proper goods and services.
10. Statue of Unity: An amount of Rs 200 crore has been kept for Statue of Unity in Gujarat. Arun Jaitley said the government of Gujarat is commenced as the mission to build largest statue of Sardar Vallabh Bhai Patel which stands as a symbol of unity of the country.
 
11. Soil-Health Card: Declining of soil health causes a topic of concern and leads to sub optimal utilization regarding farming resources. Government is planning to take an initiative scheme to provide every farmer a soil health card in a mission mode. Arun Jaitley proposed to set Rs 100 crore for this sector.
 
12. Beti Bachao, Beti Padhao Yojana: last but not the least, the very important sector introduced by the government made especially for creating general awareness and improving the efficiency of welfare services for women with Rs 100 crore. Government wants to focus on making the people aware about decreasing number of girl and women in our country. Women's safety is great concern and government has planned to spend Rs 50 crore for it.
Photo Credit: Jyoti Desale