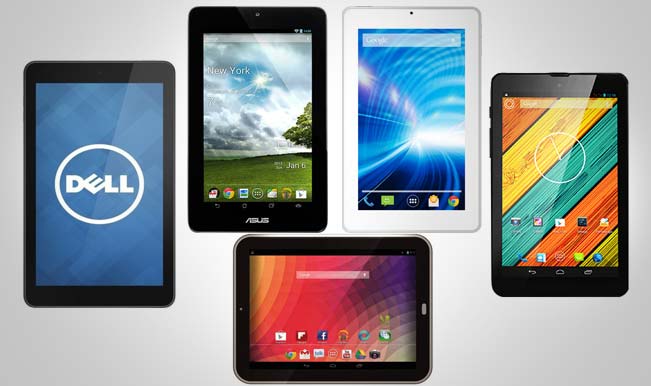 With the launch of Flipkart's Digiflip Pro, the market of the mid-priced tablets is in a hustle. Digiflip is here to stay. Along with Digiflip topping the chart, we will suggest you some best tablets under the range of 10,000.
1. Flipkart Digiflip Pro- Android: 4.2 (Jellybean)
Price: Rs 9,999.
Launched today, this tablet tops the list in this range. Sporting a decent 7 inch IPS Display 1280×800 HD screen offers a decent graphic support. The Digiflip Pro tablet has 1.3 GHz quad core cortex A7 processor and a decent 1 GB DDR3 RAM. The tablet has rear camera of 5 Megapixels and a 2 Megapixels front camera. The rear camera is autofocus supported and shines with a LED flash. It is also backed up with a strong 3000mAh battery, and gives you 8 hours of talk time. It consists of 16 GB internal memory expandable to 32 GB. Calling is the major UPS of this tablet. These solid features and affordable price helps Flipkart to top the list.
2. Dell Avenue 7- Android 4.2 (Jellybean)
Price: Rs 9,999.
When it comes to Laptops, Dell is the numero uno in that field. With Avenue 7, Dell garnered positive reviews from tech geeks. Having 7 inch 1280x800capacitive touch screen, the display adds a big plus to the device. The Avenue 7 is boosted with 1.6 GHz Intel Atom dual core processor, and 2 GB RAM. Undoubtedly, it is the fastest amongst all in the top 5. But the main drawback of this tablet is; it does not allow calling. Barring this feature, Dell Avenue outshines the other in this range. Having a strong battery of 4100mAh, it proves to be a cherry on the cake. The tablet displays an average 5 Megapixel rear camera and 0.3 Megapixel secondary camera. The device has 16 GB of internal storage which is expandable to 32 GB.
3. Lava QPAD e704- Android 4.2 (Jellybean)
Price: Rs 8,999.
After making its debut in distributing with 'Xolo', Lava launched QPAD with calling feature. But you can answer the calls only through headphones, else the call will go on speaker phone. As the first two QPAD also has a 7 inch display. The device has 1.2 GHz Quad Core processor, with 1 GB RAM. The device has 3500mAh battery, which is good for its price. Lava has compromised with the camera section; the device has 3.2 Megapixels rear camera and VGA front camera. The internal memory is limited to 4 GB and is expandable to 32 GB.
4. Karbonn Cosmic Smart Tab 10- Android 4.1 (Jellybean)
Price: Rs 8,999.
Karbonn haven't seen any major successes in the field of smart phones. It has major hopes from its Cosmic Smart Tab. It doesn't support voice calling. The display of the tab is huge 9.7 inch capacitive touch screen. The displays also has 10 point multi touch screen. Selfie lovers will not enjoy this device, as it does not have secondary camera. The primary camera is of 2 Megapixels. The big plus of this device will be its1.5 GHz ARM cortex-A9 dual core processor, with 1 GB DDR3 RAM. This will help to boost up the speed of the device. The USP of this tab will be its long lasting battery. The tab has, strongest of the all top 5, 6000mAh battery. The internal memory is of 1.5 GB and is expandable to 32 GB.
5. Asus MeMo Pad-Android 4.1 (Jellybean)
Price: Rs 8,500.
Asus, amassing some brilliant reviews for their laptops, were also applauded by the critics for MeMo Pad. Along with 7 inch display, it has decent screen dimensions of 1024×600. The major letdown for this tablet is its graphics. It was trashed by the critics, for their gaming section.  Having a mediocre 1 Megapixel camera, and no secondary camera, it is a big NO for photo addicts. It has 1 GHz processor with 1 GB RAM. Something to look out for in this tablet is its battery. Asus NeMo Pad has 4270mAh battery. It gives 7 hours of talk time. The internal storage memory of the tablet is 8 GB which is expandable to 32 GB.