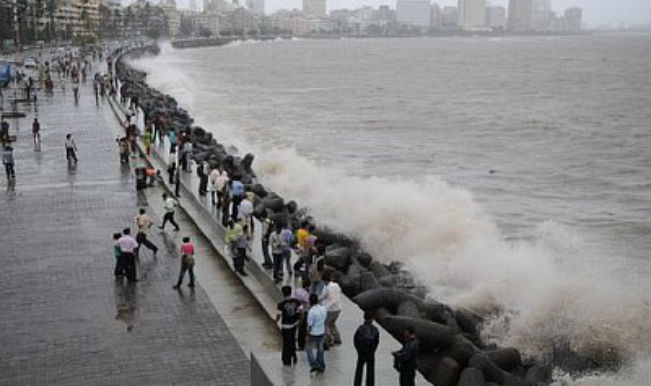 Every Mumbaikar excitingly awaits the monsoon. Each location in Mumbai has its own monsoon avtar! If you haven't ever experienced Mumbai monsoon, then, my dear friend, you have missed a very important thing in life! Keeping aside the traffic jams and the dirty massive mud puddles, Mumbai rains are to die for! The city of dreams looks all the way more beautiful during monsoons.
Early June marks the beginning of the baarish ka mausam in aamchi Mumbai. However, this time, the rain God took quite a while to shower its blessings upon Mumbaikars. After the scorching June sun, the rains are finally here to thwart the heat waves! Take a quick look at the top 5 things every Mumbaikar should do this monsoon! Enjoy!
1. Marine Drive: 
There is no denying it that the best stop during the monsoon is Marine Drive. The Queen's Necklace looks outstandingly beautiful during the monsoon high tide making it the premiere destination to be at, especially during monsoons.
2. Gateway of India:
If you have a day at your disposal, take a boat ride across Bombay Harbour. The view of the Taj Hotel and the Gateway of India will mesmerize you completely.
3. Bhutta:
After the long bike ride and soaking in the rains, Bhutta or corn with cutting chaai is definitely a must-have snack during the rains!
4. Long Drive along Chowpatty:
After a soggy summer, on a rainy day, going on a long drive with soothing music playing in the background is a must! Do make it a point that you don't miss out on a long drive along Mumbai's Girgaum Chowpatty. Also, don't forget to halt there and have some garma garam Pav Bhaji at one of those snack stalls!
5. Romantic walks: 
A long walk with your partner is a romance you wouldn't want to miss!