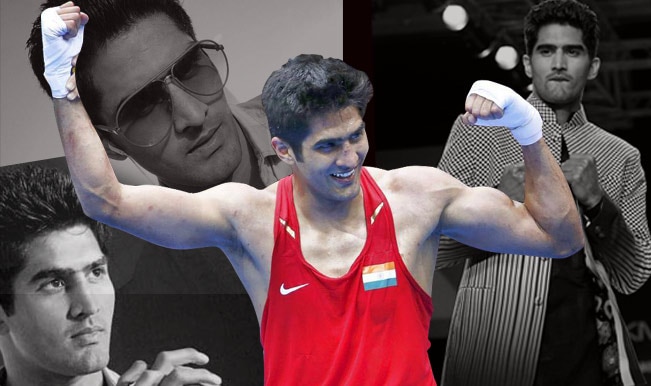 Olympic and World Championship bronze-medallist Vijender Singh has now assured the country of their medals in the Commonwealth Games 2014  with 4 others at the Commonwealth Games. The Indian Olympic boxer had first shot to fame with his victory in 2008 Olympics winning a bronze medal. With the bronze he became the first Indian boxer to win a medal. He and Sushil Kumar was given a grand welcome on his return to India.
While the country is awaiting the news of Vijender's success in Commonwealth Games 2014, here is a list of five things you should know about the boxer.
1. Medals
His Profession being one of his hobbies, he had excelled in the field since his teenage days. He had won many awards in different competitions in the national level. After completing his training, he was choosen to participate at various international competitions including 2006 Asian Games and 2008 Beijing Summer Olympics.
In 2006 Asian Games, he won the bronze medal after he lost in the semi-finals against Kazakhstan's Bakhtiyar Artayev
In 2006 Commonwealth Games, he again won a bronze defeating England's Neil Perkins in the semifinals but lost to South Africa's Bongani Mwelsae in the final
In 2008 Beijing Summer Olympics, he again won a bronze by defeating Carlos Gongora of Ecuador in the quarterfinals
In 2010 Commonwealth Games, he was left with a bronze after been beaten by Engalnd's Anthony Ogogo in the semi-finals
2. Honours and Awards
Vijnder was felicitated with the India's highest sporting honour- Rajiv Gandhi Khel Ratna award. He was announced as the top ranked boxer in the annual middleweight category list in the International Boxing Association (IBA) with 2800 points. He represented India at the 2012 London Oylpic Games. He was also awarded the Padma Shri for outstandinf contribution to Indian sports.
3. Controversies
In 2010 Commonwealth Games, Vijender was given a two point penalty for coming in 20 seconds late before the end of the bout which automatically made Ogogo win by 4 points to 3. Although, Indian Boxing Federation launched an appeal against it, it proved to be unsuccessful.
On March 6, Punjab Police seized 29 kilograms of heroin and other drugs worht Rs 1.3 billion in a raid conducted in his NRI residence near Chandigarh. They also recovered a car registered under the name of Vijender's wife from outside the home of a frug dealer Anoop Singh Kahlon. Later investigations found out that he had consumed the drug 12 times. Although National Anti-Doping Agency and Vijender Singh himself refused for test to check his sample, the Sports Ministry later demanded his medical reports.   However in May 2013, the National Anti-Doping Agency gave him a 'clean chit' certificate.
4. Media appearances
Apart from boxing, Vijender Singh has taken part in ramp shows and has been in the limelight with modelling. He has also appeared in Salman Khan's '10 ka Dum' accompanied by Mallika Sherawat. He has also made an appearance on dance reality show, N'ach Bachilye' with Bipasha Basu.
5. Bollywood debut
Vijender Singh made his first Bollywood debut with 'Fugly' in June 2014. It was rated above average.
Get Commonwealth Games 2014 Complete Schedule of Indian Players Here