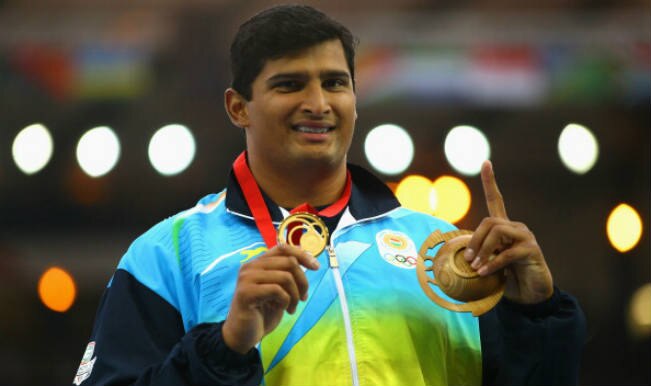 Vikas Gowda became the first Indian athlete to win a gold medal in Discuss Throw event in Commonwealth Games, at the Hampden Park Stadium on 31st July 2014. Vikas won gold for his throw of 64.32 meters, while Apostolos Parellis of Cyprus won a silver medal with a throw of 61.91 m. The Jamaican athlete, Jason Morganwon won a bronze with a throw of 61.08 m.
As per the official scores, the Australian, J Wruck came fourth with a throw of 59.02 m. While the crowd favourite, Scotland's N Percy came distant fifth with a throw of 56.71 m.
Let's now have a look at the 8 major achievements of this champion athlete overs the years –
1. Delhi Commonwealth Games: Vikas won a silver medal in Delhi CWG held four years back with a throw of 63.69 m. He enhanced his performance here in Glasgow to clinch the gold.
2. Asian Games: The 31 year athlete won a bronze medal in Guangzhou Asian games held in China. He won the medal for his throw of 63.13 m.
3. Asian Championships: The Mysore boy once again did the country proud in Asian Championship held in Pune, India by winning his first gold medal in these games. He won the yellow medal for his throw of 64.90 m. Vikas had earlier won a silver medal in 2005 Asian Championships held at Incheon, South Korea and repeated his performance six years later with a throw of 61.58 m in Kobe, Japan.
4. Olympics: Supported by Olympic Gold Quest program, Vikas Gowda has represented India in two Olympic Games in men's Discus Throw event. In 2006 Beijing Olympics, he disappointed with a 22nd position and failed to reach the finals, however qualifying for these games was no mean an achievement. He improved his performance in 2012 London Olympics and came in at an impressive eight position with a throw of 64.79 m.
5. World Championships: The ace athlete has represented India in World Championship in 2011 held at Daegu, South Korea. Though he did not win a medal here, he finished seventh with an impressive throw of 64.05 m. This distance would have been enough to get the yellow medal in 2014 CWG.
6. Melbourne Commonwealth Games: Very few people know that the champion athlete has also represented India in shot put in 2006 Melbourne CWG in Australia. He came fifth in this event.
7. World Junior Championships: As a kid, he has represented the country in World Junior Championship held at Kingston, Jamaica. He represented India in shot put, where he came in eighth.
8. Best Performance: His discuss throw of 66.90 meters is still an Indian National record. He achieved this record in the year 2013.
 Get Commonwealth Games 2014 Complete Schedule of Indian Players Here 
Get The Updated Commonwealth Games 2014 Medals Tally Here