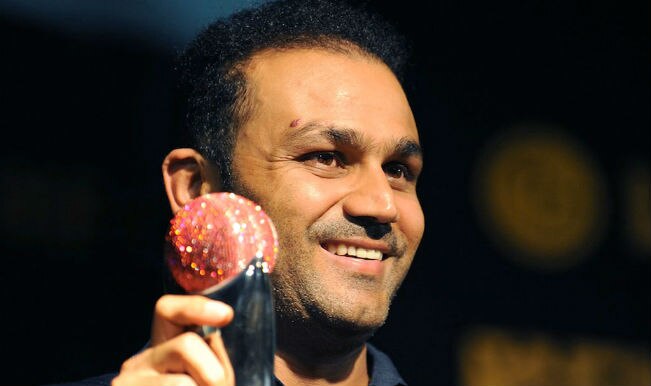 The last qualifier of IPL 2014 saw Virender Sehwag give one of his most phenomenal performances as he made 122 runs off 58 balls, creating a new high score in his career. The whole crowd was flying red as Kings XI Punjab went into the final after defeating Chennai by a huge margin of 24 runs. But this is not the first time Viru has scored big known for his action on the field, he has played some phenomenal innings. Here are the top five performances by our very own Viru Paaji.
1. 219 vs West Indies, Indore ODI
Sehwag made heads turn by his performance in various test matches; however it was his record of 219 in the ODI against 219 on 8th December 2011. This record broke Sachin's record of 200 and gave Sehwag a huge amount of appreciation and applauds.
2. 254 vs Pakistan, Lahore Test
Pakistan, riding on centuries from Younus Khan, Mohammad Yousuf, Shahid Afridi and Kamran Akmal got to an imposing total of 679. Sehwag walked out along with Rahul Dravid to tackle the Pakistani bowling on a docile pitch. After another brutal innings, Sehwag ended with 254 off 247 balls, striking 47 fours and a six in the process.
3. 175 vs Bangladesh, Dhaka ODI
Sehwag gave another memorable performance against Bangladesh in the ODI series in Dhaka in 2010. he scored a total of 175 runs off 140 balls with fourteen fours and five sixes.
4. 119* vs Deccan Chargers, Hyderabad
He had captained Delhi Daredevils to many victories and when his team was down with 25/3 and they had a target of 180, Viru Paaji worked his charm in IPL 2011. He scored this phenomenal 119 in mere 56 balls.
5. 319 vs South Africa, Chennai Test
This test series witnessed a phenomenal performance by Virendra Sehwag as he scored 319 off 304 balls with 42 fours and five sixes. Sehwag had broken the record for the highest individual Test score by an India, a record that he himself had previously held. India got to 627, riding on Sehwag's brilliance, and the match meandered to a dull draw, on a pitch that never really deteriorated as it was expected to.