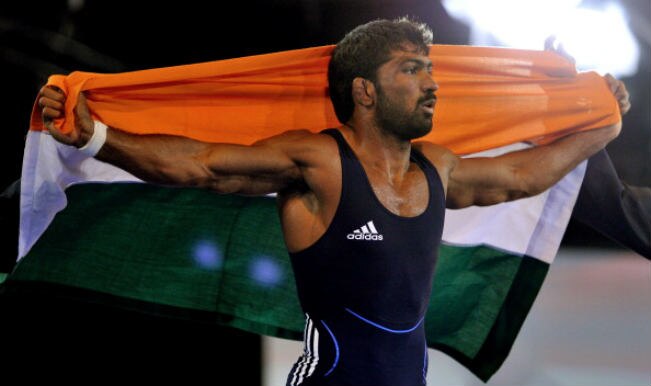 The 31-year-old champion wrestler, Yogeshwar Dutt born in Sonipat district of Haryana did the country proud when he won a gold medal in 20th Commonwealth Games in Glasgow. Yogeshwar Dutt defeated J Balfour of Canada in the Men's Freestyle wrestling in 65 Kg event. Such was Yogeshwar's dominance in the match that the Canadian could not win a single point and the ace wrestler from India took the match on the basis of technical superiority after winning 10 points.
The bronze medal in the event went to S Clarkson of Nigeria and the crowd's favourite, A Gladkov of Scotland. Throughout his career Dutt has been non-controversial, extremely hard working, away from limelight and has just let his sport do the talking. He truly has been an unsung hero of Indian wrestling!
Let's now have a look at the 11 reasons why India is proud of this champion wrestler:
1. Humble Beginning – Dutt started his wrestling at a very young age of eight years. He first started practicing wrestling in his native village and grew up idolizing Balraj Pehlwan. He was trained by coach Ramphal.
2. Modest Person – Born in a Brahmin family in Bhainswal Kalan village of Haryana, Yogeshwar is a modest, simple and humble individual. He is nicknamed Yogi for his true nature.
3. London Olympics – He did the country proud on 12th August 2012 when he won a bronze medal in Men's Freestyle 60 kg event at the 30th Olympic Games held in London. He defeated Ri Jong-Myong of North Korea to clinch the medal. By virtue of his achievement, he became the second wrestler to achieve the honors in the country's Olympic history.
4. Asian Wrestling Championship – He brought laurels for the country in these games when he won a gold medal in 60 kilogram Freestyle category in 2012 Asian Wrestling Championships held at Gumi.
5. Delhi Commonwealth Games – Yogeshwar had to fight hard to defeat both, his career threatening knee injury as well as his opponents to win gold in 60 kg event in Delhi CWG four years back.
6. Asian Championships – The ace wrestler once again brought glories for the nation by winning the yellow medal in 2008 Asian Championships. These games were held in the month of March at Jeju, South Korea. He was awarded a place in 2008 Summer Olympics for his gold medal winning performance.
7. Commonwealth Wrestling Championship – Dutt has won five medals in these games spread across 3 tournaments, 2 countries and 2 categories. He won gold in 2003 London games in 55 kilogram Freestyle event and repeated his heroics in 2005 Cape Town competition in South Africa, where he again won gold in 60 kg Freestyle and silver medal in 60 kg Greco-Roman wrestling events. He repeated his Cape Town performance in 2007 London games.
8. Doha Asian Games – Yogeshwar's professionalism, heroics and commitment for his country and games will be long cherished in Indian Wrestling History for his bronze medal winning performance in 15th Asian Games. Dutt took part in 2006 Doha games, in spite of losing his father just few days before the games and sustaining a severe knee injury. He overcame both his mental and physical sufferings to win a medal for the nation.
9. Commonwealth Championship – He won a gold medal in 2003 Commonwealth Championship and set the tone for the rest of his career.
10. Recognition – The Government of India conferred him with Rajiv Gandhi Khel Ratna Award in 2011-12 and Padma Shri in 2013 for his excellent performance across the globe, for bringing laurels to the nation and for doing the country proud.
11. Reward – He was given cash reward and a piece of land worth millions by the Haryana government for his bronze medal winning performance in 2012 London Olympics. He was also given a cash reward by Rajasthan government for his performance in these games.
Get Commonwealth Games 2014 Complete Schedule of Indian Players Here