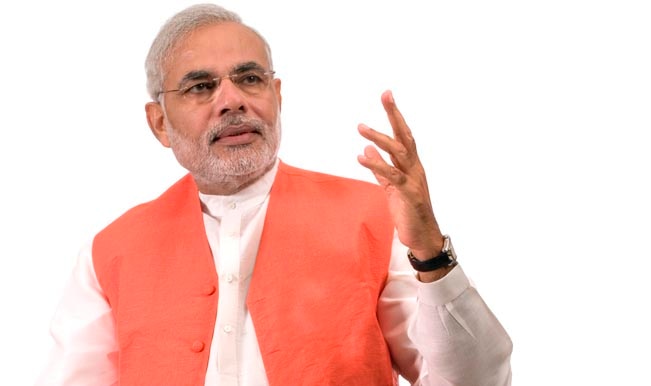 The most awaited interview of the year, 'Modi: Frankly Speaking with Arnab' wasn't as spicy as one would have wanted. It was more of the same interviews in which Narendra Modi preaches and the interviewer simply does his formality of asking the questions. Though there were many eye catching instances in the interview, it didn't had much new to offer. Arnab did try to ask questions in a golmol (twisted) manner, but Modi being firm in his approach replied very well. Here's a look at those few instances:-
Modi's FITTING reply to Arnab. Modi 1-0 Arnab
When ridiculed Modi, over his recent remark of, "Those who observe Durga Ashtami and those who speak Bengali, they're all Mother India's children. Modi in his reply said, "I'm telling the same thing what the Supreme Court has said. I am saying the same thing what Mamata Banerjee said on 4th August in 2005 in Parliament. I am repeating the same thing what Indrajeet Gupta as a Home Minister said in 1996. And I am restating the same PM Sayeed as a MoS Home had said in 1995.
Sounded like Vajpayee, quite a surprise. Modi 2-0 Arnab
Modi on being asked a question on illegal infiltrations, he staunchly replied, "Votes aayenge jayenge, sarkarein aayegi jayegi, Desh sarvapratham hai." (Votes may come and go, Governments come and go, and it is the nation that is important). This happens to be one of the famous dialogues of Atal Bihari Vajpayee during his golden days.
Arnab likes to take the charge. Modi 2-1 Arnab
When asked a question about the involvement of RSS or VHP leader in the 2002 riots, Modi's minuscule fumble meant something. His eyes for micro seconds looked for another way. Was it a worrying fumble or just a casual one? We live it up to you to decide.
Slams the media. Modi 3-1 Arnab
Bang! Whoosh! Duum! On a question related to the recent Priyanka Gandhi's daughter-remark controversy, Modi hideously slammed the media. He said, "Why didn't the media show the clip of my interview when the reality came out?" I'm stunned that why did the media brush the matter under the carpet.
When Arnab tried the RaGa thing on NaMo. Word of caution buddy! Modi 4-1 Arnab
When Arnab tried to trap Modi in the same way he did Rahul Gandhi on the 1984 anti-Sikh riots. Modi strongly gave a word of caution to Arnab. "You cannot trap me. Your duty is to ask questions and mine is to answer, but what you're doing is a wrong way!"
Smartly counter questions on Adani's land deals. Modi 5-1 Arnab
There had been much of muck throwing on Modi relating to Adani land deals, but the most comprehensive answer was, "How can you compare the land rates of Kutch and Ahmedabad?" retorted Modi.
Arnab's reaction-check time (Kodak Moment).
The first awe moment of the show came when Modi said, "What buddy? Atleast do some good research. I thought Arnab does a very well research." The second was when Modi spoke a couple of sentences in English. It is not that he doesn't understand English, but he has been rarely seen speaking English. This was quite bemusing and for a moment Arnab was awe-struck!

Arnab had the last laugh! Modi 6-2 Arnab
Modi gave a dead rubber interview a new life in the end when he said, "All the credit for Gujarat given to me is not right. I've got nothing to work on. It is my team which works, but we have timely meetings to plans forward." The timing of the statement may backfire, as opponents won't let go of such opportunities. There were high expectations from the interview but it didn't turn out as it was expected to. Barring few moments as mentioned above, the interview missed the spark which the usual Arnab's show has. There wasn't mention of the Aam Admi Party which was a bit surprising. But overall it had nothing new to offer. It was more of a address to the nation than a straight up interview.
Anyone who is waiting for Arvind's Frankly Speaking With Arnab? *winks*