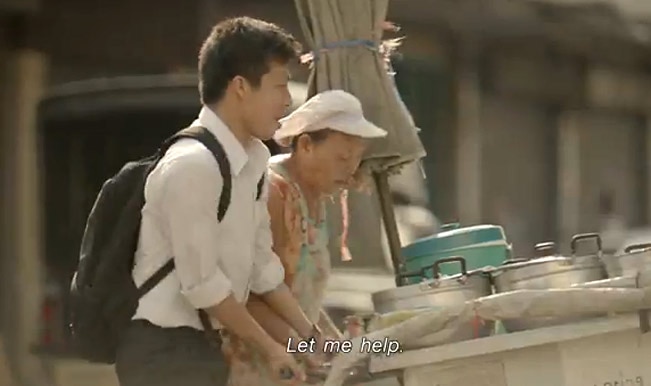 You won't realize by watching the 3 minute video that it is a commercial advertisement. Since it reeks no selfish marketing strategy or any commercialized way of manipulating us into buying anything. This commercial is doing the rounds on social media networking sites and warming many hearts by reaching millions of people. The video is a tearjerker; it reminds us of the selfless love by doing random acts of kindness and has gone viral due to the fact that it is so beautifully made without any materialistic approach.
The video called Unsung Heroes tugs at our hearts with its moving and cinematic quotient. It almost resembles a short film. The video has a man who goes through each passing day doing deeds of kindness to others from sharing food with a stray dog, anonymously leaving fruits for an old lady in his building, helping to water a sidewalk potted plant and donating money each day to a small girl begging on the road.
The voice over on the commercial says 'he gets nothing, he won't be richer, won't appear on TV, still anonymous, and not a bit more famous, what he does receive are emotions.
He witnesses happiness, reaches a deeper understanding, feels the love, receives what money cant buy, a world made more beautiful. And ultimately asks us 'And in your life what is it that you desire most?'Thai life insurance with tagline Believe in good.
Sure the world needs more acts of random kindness but this was the best life insurance commercial ever, it seems to have answered the most question of life revolving around

So what did you learn from this video?