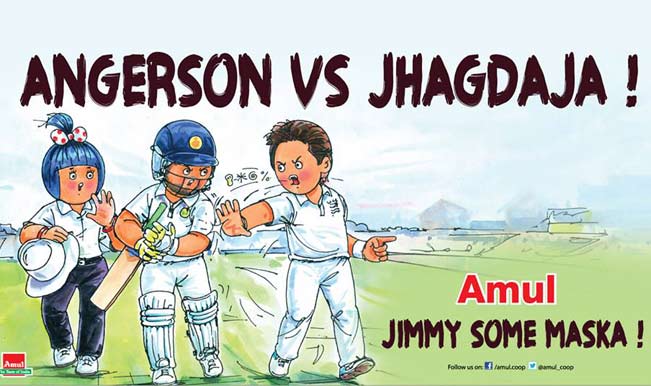 Be it something as glorious as Germany winning FIFA 2014 World Cup or as shameful as James Anderson-Ravindra Jadeja row in cricket, Amul does not forget to bring out the lighter side of them. And once again they prove to be masters at providing a smile to everyone's face with their take on the whole James Anderson and Ravindra Jadeja fight episode taking place in the First Test Match between India and England.
The infamous incident involving the two players James Anderson from England and India's Ravindra Jadeja had heated argument on Day 2 of the Nottingham Test Match. Amul very innovatively played with the surnames of both the players changing Anderson to 'Angerson' and Jadeja to 'Jhagdaja'. You see an angry Anderson trying to stop Jadeja and also using swear words as the Amul Girl dressed as the umpire is seen in complete shock. Amul is trying to mellow down the fight in its own delightful manner by asking James Anderson, "Jimmy Some Maska".
The English pacer, James Anderson has been slapped with Level 3 offence for breaching the Code of Conduct on day 2 of the first Test match against India at Nottingham. He has been accused of 'abusing and pushing Ravindra Jadeja when the players were leaving the ground for lunch.