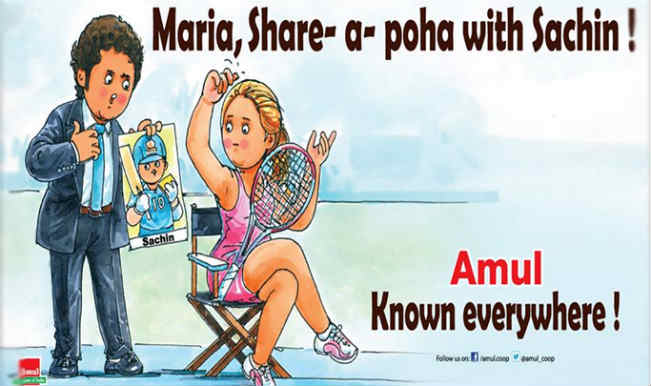 When the world is busy bashing tennis star Maria Sharapova for not knowing cricketing legend Sachin Tendulkar, Amul comes out with its creative that should resolve the differences between two sports stars. In this truly marvelous advertisement by Amul, the dairy product brand is sure to bring a smile to your face with its latest depiction of the Sachin-Sharapova episode.
In this current creative by Amul, we see God of Cricket Sachin Tendulkar is showing his photograph as cricketer to tennis sensation Maria Sharapova. Do not miss the iconic number 10 jersey of Sachin Tendulkar in that picture. We get to see an agitated Tendulkar and equally confused Sharapova, who seems to not recognize him!
The social media and the agitated Sachin fans created a ruckus, with many going on to abuse the Russian player and creating hash tag #WhoIsMariaSharapova but Amul does something different. It rather goes on to 'Share-a-poha' between the two players. Amul smartly played with the surname of 'Sharapova' and changed it into 'Share-a-poha' and requests her to share poha (eatable in Indian families) with Sachin Tendulkar.
And at the end of this do not miss their tagline which says, Amul – Known Everywhere! Ouch.