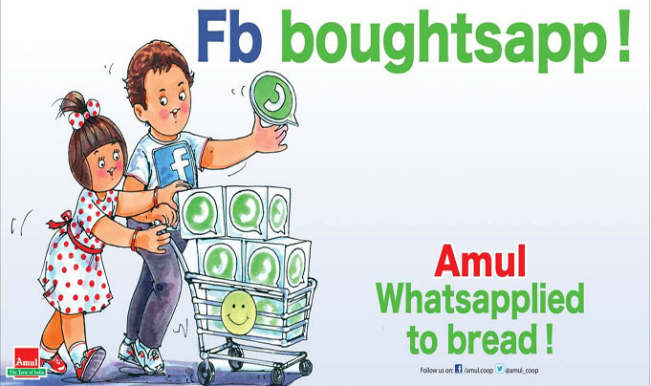 No major event is complete till featured by our Amul Utterly Butterly Girl. So how can something as big as Facebook buying WhatsApp could go unnoticed without their funny take on it. Amul has come out with a brilliant creative caricature to project this deal between Facebook and WhatsApp. It gets all the more ironical as WhatsApp goes crashing two days after signing the deal!
The creative showcase a boy wearing a tee with Facebook logo imprinted resembling Facebook owner Mark Zuckerberg along with the Amul girl. He is seen buying and filling the shopping trolley with WhatsApp logos. Icing the cake and in this case bread (pun intended) is their tagline which says – Amul Whatsapplied to Bread.
Amul definitely knows how to have fun and it gets better with this advertisement depicting record deal of USD 19 billion dollar between the social networking giants and message stratup. They do look like going on shopping spree with online photo and video sharing service Instagram also in its kitty.
Photo Credits: Amul Facebook Fan Page