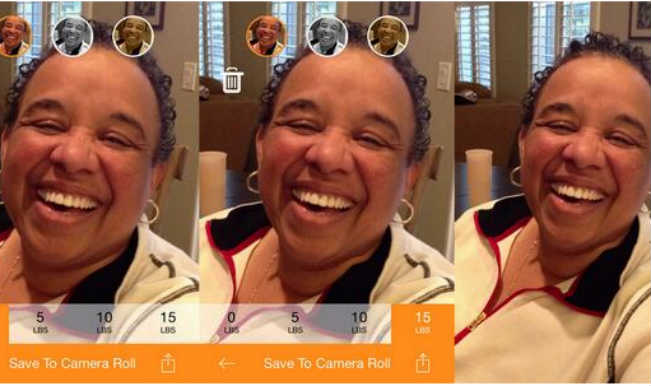 The fad to be skinny has always been controversial, but prevalent. Everyone is under increased pressure with the influence of media, to stay stick thin. And slimming down has been on our agenda for as long as we can remember. So when you take that picture of yourself, don't you wish you looked a little thinner?
The camera is said to make you look fatter than you really are. Well, here's an app that does just the opposite. It shaves off weight from our faces and bodies when we click a 'selfie', or a self-photograph. Fancy taking 5, 10, maybe even 15 pounds off your picture? Well, now you can!
SkinneePix is an app created by the technology start-up, Pretty Smart Women. It edits photos to create slimmer versions of users in their photographs. Capitalizing on the trend of taking selfies, the app is for the iPhone and is priced at $0.99.
The app's description reads, "SkinneePix makes your photos look good and helps you feel good. It's not complicated. No one needs to know. It's our little secret."
The makers of the app were Susan Green and Robin J. Phillips, who received the idea for creating it while they were on vacation with their friends. Even after they took many selfies on their phones, none of their friends were pleased and satisfied with the resulting pictures, and wanted them deleted. This was what prompted the duo to create an app that served the purpose.
The creators specifically say that the camera is traditionally said to add 15 pounds, and SkinneePix is designed to remove a maximum of that much. They also say that it is not a tool for self-criticism, but a playful app that may encourage a person to be fit.
However, not surprisingly, there is a wave of criticism against the app. SkinneePix is under fire for reinforcing the idea of 'skinny' as a desired body shape. This would lead to an emphasis on unreasonable standards of beauty, which makes a person feel inadequate. The app was even said to be a quick way to Photoshop a person just like the magazines and billboards do.
Selfies are being blamed for the rise in plastic surgery, and this 'skinny filter' will only add to the woes of people battling with their body image. With eating disorders on the rise and the increasing influence of media, the app would indirectly pressure people to conform to the thin frame.
Even with all the negatives, the makers believe that the app can help or have the potential to help people, especially women. When women want to be fit, and see what they would look like, they would be motivated to take action. This is because the weight loss that the app simulates is attainable. A woman would be more likely to pursue this goal since she has seen the results that could possibly be attained by her.
In fact, Susan Green, one of the creators of SkinneePix, tried the app on herself. She later said, "The first time I saw myself in that app, I felt better seeing my face a little slimmer. It's not this huge change. When I saw it I remember thinking, 'Gosh, I feel better about this picture,' and that's only 15 pounds. If I can lose 15 pounds and look like that."
Among all the negative reviews, the app aims to motivate women to create real attainable weight loss goals and stick to them, and we can only hope it succeeds in doing so.