Tech giant Google hosted the annual developers conference Google I/O' in San Francisco this week. The event concluded with some major announcements regarding Android, Chrome, Android TV and much more. Google announced the next version of Android: Android L and is being trending everywhere from the day of event.
Let's show you how Android L is different from its previous versions:
1 Dialer Pad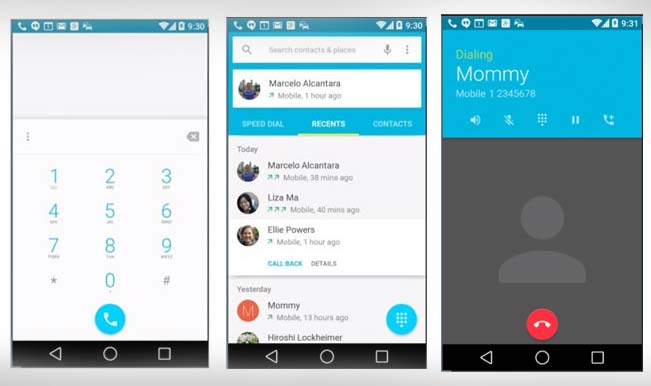 Google has designed the dialer pad in an elegant blue-white color theme. You can see the 'Call' icon at the bottom in a small blue circle. In Recents you can see the dialer pad icon with the same color. With this stock theme, Google has maintained its class and style at the same time.
2 Notifications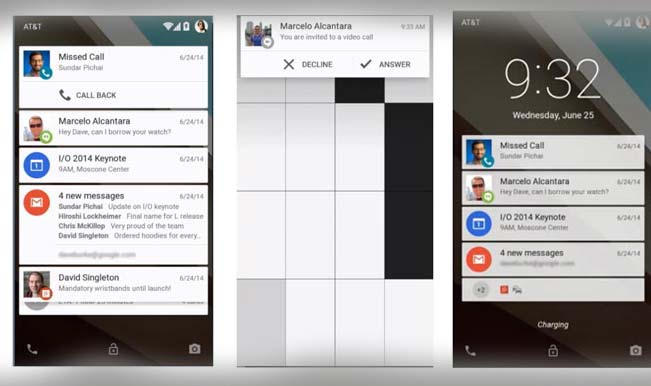 The major modification in Android L will be seen in the notifications area. In Android L you can view the notifications on the lock screen. You can either double tap and expand the notifications or just slide them to clear away. The system will filter and provide the most relevant and significant notifications on your lock screen. Android has something more in store for you. In Android L, you will witness new category of notifications named as 'Heads up notifications'. Heads up notifications can also be re-phrased as short notifications. While playing your favorite game or watching any video, incoming calls are the most irritating thing to happen. It will not disturb you anymore, as seen in the middle image, you will get a short notification on the top to accept or decline the call. These notifications work only when you are using any application.
3 Recent Applications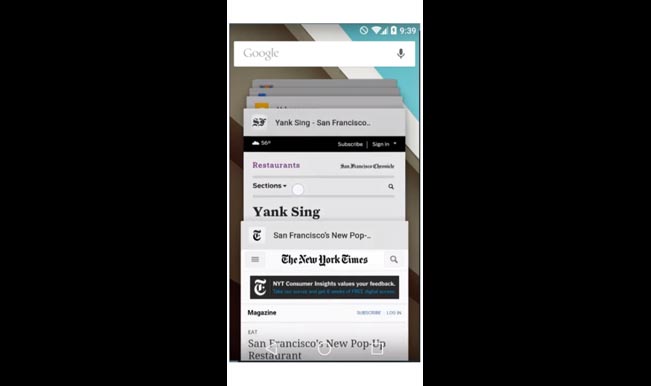 Are you bored with the same recent tiles? Google has something new and beautiful for you. Android L will have cards-like 'recent apps' display. You can see your running apps in a stack-of-cards type. Perfect shadows, 3D feel are some of the new features to be added. Good news for chrome users! Android L will add the running tabs of browser in the recent application's section.
4 Graphics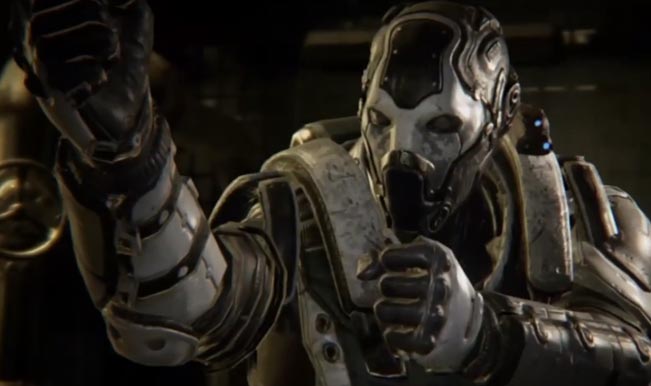 Last but not the least, as claimed by Google, graphics of Android L will have the feel of PC gaming. Google screened a short teaser of the gaming graphics at the event. Everyone at the event was mesmerized with the teaser. If Android L will have the same visuals as shown in the teaser, then it will bring a revolution in the field of gaming graphics. Y'all till then enjoy a screenshot from the teaser.