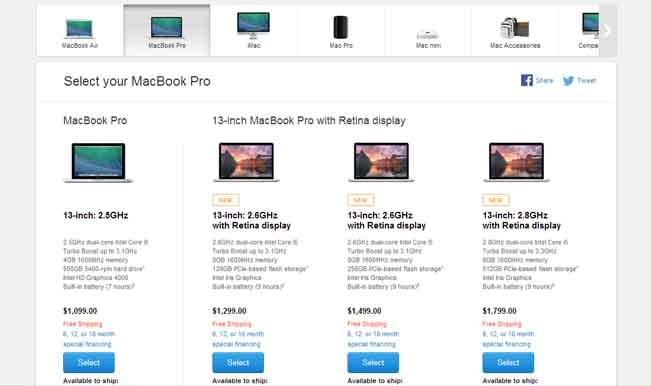 Leaked images of the Apple MacBook Pro getting revised models hit the Internet this week and Apple has been quick to this time to update their official site with the revised list of the 2014 models. All the MacBook Pro models have been upgraded whether it is the processor or the memory chip while some models have even become cheaper like the MacBook Air model price drop earlier this year.
The revised models of the 13-inch screen variant gets a minimum 8 GB inbuilt memory with all the models featuring a 200 MHz processor. The prices start from $ 1,299 and go all the way to $ 1,799.
The 15-inch models also get the 200 MHz processor but the inbuilt memory goes up to 16 GB now. Prices start from $1,999 and go on to $ 2,499 which $ 100 lesser as compared to the 2013 models.
You can order your MacBook Pro on Apple's web store with 24 hour delivery guaranteed in the US. If you don't want the Retina Display 13-inch MacBook Pro then you can save another $ 100 on the price from the previous model which is now $ 1,099.