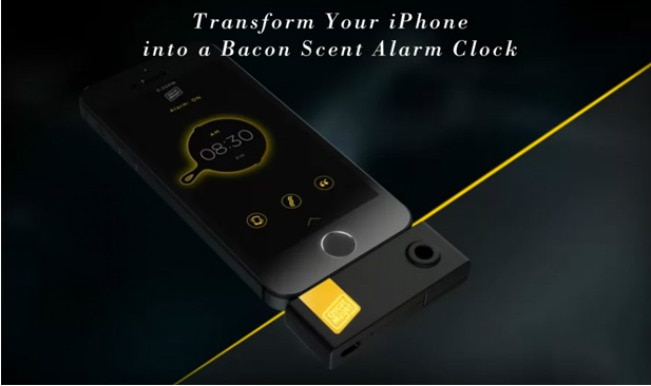 The phrase 'Wake up and smell the bacon' is now a reality, thanks to an attachment to the iPhone that allows you to wake up to the sound and smell of bacon, literally!
The virtual scent and sound experience was carried out through the Pop Secret iPhone popcorn smell emitter last year. With the introduction of a similar venture in bacon, it can possibly become a trend in the technological world.
Waking up to the sound and aroma of sizzling bacon is said to be one of the best experiences one could have. The breakfast staple has been a favorite of many, leading to the coining of the phrase. The alluring aura of preparing bacon for breakfast, has been technologically recreated by supermarket meat giant Oscar Mayer.
The brand has recently invented its new Wake Up & Smell the Bacon device, which attaches to your iPhone and subsequently transforms it into a delicious bacon-scented alarm, of sorts.
According to their website, expertly sliced high-quality bacon inspired the attachment device, in celebration of the most popularly loved aroma in the morning.
Though the iOS app that emits the sounds of crackling bacon is already available in the Apple iTunes store, the device that actually emits the scent cannot merely be purchased.
Those who wish to get their hands on the device will have to fill in an online entry form in order to become an Official Bacon Beta Tester. If lucky, the person receives the attachment that pairs with the iOS sound app to form a 'bacon alarm clock'.
In order to use this device, a person is expected to connect it to their phone and pair it with the app. Then they have to set a time for the alarm. At that set time, the app will produce a sizzling sound and the device emits the aroma of bacon. Then the person might long for the taste of bacon, but that would only be satisfied with the presence of bacon in one's house.
In order to promote the brand campaign, Oscar Mayer is planning to give away 4,700 of the scent-device smartphone attachments in April. Winners, the Official Bacon Beta Testers, can attach this to their phones and use it as they like.
Although it could be said that the manufacturing and distributing of so many devices for free is questionable, the long-term benefits are much more. Consumers will desire the experience of waking to bacon, and this desire will turn into a potential habit. Long after the scented attachment device stops working, the consumers will still want to prolong the experience by actually buying bacon and repeating the process every day. Hence, this is a smart marketing plan on OM's part, and will ensure long-term profitability.
Oscar Mayer and creative agency 360i created a video highlighting the epic giveaway. Watch it