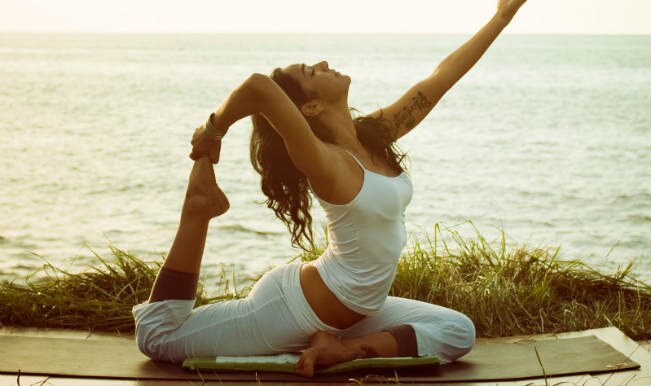 In this yoga class you need not fret about what to wear every day, what brand gives more support or how do you look. Because this yoga class functions, the unconventional way. Bold and Naked respects you as a core person your authentic personality and simply accept as you are, all you need to do is be comfortable in your own skin. There is a yoga class that provides co ed yoga classes where participants are completely nude. Though it might turn on some people ,but this class in Chelsea, is supposed to provide students with a new way to focus on celebrating their bodies and is not intended to be sexually evocative.
And as per the studio rules, none of this body-to-body contact is meant as 'sexual touching and should any contact of sexual nature occur, it will not be tolerated and will result in the offending member being asked to leave. 'Anyone who has been asked to leave will not be allowed back to attend classes in the future.'
The instructors, Joschi Schwarz and Monika Werner from Bold & Naked have firmly stated on their site: 'IF YOU ARE LOOKING FOR AN ORGASM, YOU ARE IN THE WRONG PLACE.'
For those who are just here for a peep they say: 'Don't waste your time. The energy in the room is very clear and members who come to Bold & Naked are very focused on celebrating their bodies through yoga.'
The nakedness is to connect more alignment with your body to enlighten and to provide more liberating experience.
But in spite of all the liberating experience when asked if there are any occurrences when a person gets little too excited what happens? To this they replied  "It rarely happens, but when it does it's okay and nothing to be embarrassed about," the FAQ explains. "It will pass quickly. Erections happen for a lot of reasons and are not limited to sexual attraction. Yoga moves a lot of energy throughout the body and sometimes erections happen. But once we start moving, there is no way an erection could be sustained, because of the physical nature of Vinyasa Yoga."
BOLD & NAKED offers yoga in sweat pants Vinyasa Yoga, in swim pants Half-Naked Yoga and without pants Naked Yoga. But it is the naked yoga which has taken New York by the storm
Bold & Naked does empower you in a cool way being healthy, strong and naked! Would you bare it all?